Hokusai and His Circle: The Literary Network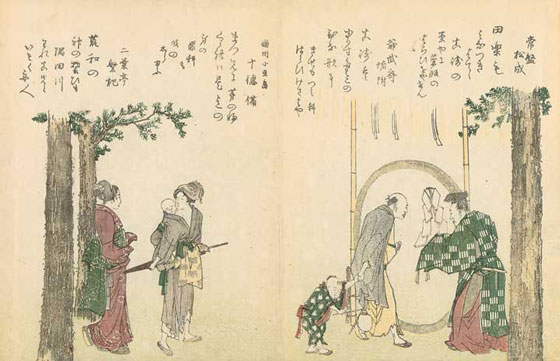 Katsushika Hokusai (1760–1849)
Pilgrimage to Masaki Inari Shrine,
from
Birds of the Capital (Miyakodori)
ca. 1802
Color woodcut album of
kyōka
("mad verse") poems with 6 plates
23 x 35 cm covers open
The Art Institute of Chicago, Martin A. Ryerson Collection, 4-1-49
Parents and children make a pilgrimage to Masaki Inari Shrine on the west bank of Edo's Sumida River to partake of an annual Shinto ritual, an end-of-summer purification rite held on the last day of the sixth month. Visitors pass through a large hoop made of chigaya grass tied with paper to symbolically exorcise spiritual impurity. The title of the album is a play on "miyako," or capital, and "dori," birds. "Miyakodori" is the name for gulls common to the waterways of Edo and an allusion to a poem from the tenth-century narrative Tales of Ise.
Photo: Robert Lifson © The Art Institute of Chicago