Hokusai and His Circle: The Literary Network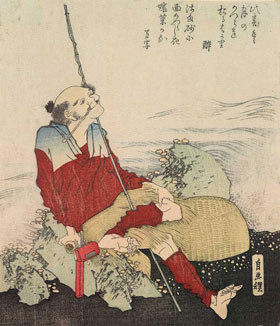 Katsushika Hokusai (1760–1849)
Fisherman Sitting on a Rock by the Sea
Early 1830s
Color woodcut,
surimono
with brass and silver powders
21.3 x 18.4 cm
The Art Institute of Chicago, Gift of Helen C. Gunsaulus, 1954.625
This surimono that many have taken to be a self-portrait of Hokusai as a contented fisherman dates to around the time his daughter Katsushika Ōi (Oei or Ei; ca. 1800–ca. 1866) returned to live and work with him, and features poems by father and daughter. The pair of poems may refer to the coming-of-age and marriage of one of Hokusai's grandsons, or an event of similar significance to the Katsushika household.
Photo: © The Art Institute of Chicago