Introduction
Designed for Pleasure: The World of Edo Japan in Prints and Paintings, 1680–1860
Through 140 masterworks of paintings, woodblock prints, and books, Designed for Pleasure examines—in the context of Japan's famous floating world—aesthetic, social, and commercial forces active in contemporary art today: fashion, celebrity, marketing, and popular culture. Ukiyo, literally, "floating world," means something like "going with the flow." In practice, this implied disporting oneself in the pleasure quarters and theater districts of Edo, Kyoto, and Osaka that captivated the popular imagination of Japan from the late seventeenth to late nineteenth centuries. E means "picture." Ukiyo-e (pronounced oo-key-yo-ay) are the paintings and woodcuts that depict the floating world, a term that has become identified with this milieu and, by extension, its activities and the native landscape.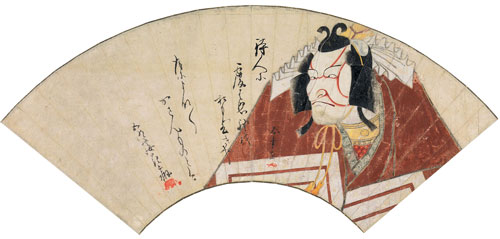 Katsukawa Shunshō (d. 1792).
Ichikawa Danjūrō V in the Shibaraku (Stop Right There!) Role
.
Late 1780s.
Folding fan; ink, color, and gold on mica-ground paper.
15.9 x 45.5 cm.
John C. Weber Collection.
Photo © John Bigelow Tayor
Though ukiyo-e prints first captured the attention of the Western world––and there is no denying their graphic brilliance––they were almost always the work of artists who thought of themselves primarily as painters. They often signed their prints as being "from my brush." Some artists gave up designing prints in favor of painting once their reputations were established. A prominent focus are the luxury paintings that were made to order for the elite market, which largely consisted of samurai officials and retainers, and prints that were either directly commissioned or designed to appeal to this same group. The exhibition also examines the business of printmaking and the commercial pulse of the times.
Curated by Sebastian Izzard, H. George Mann, Julia Meech, Jane Oliver, and Allison Tolman, Japanese Art Society of America
Companion Volume
Designed for Pleasure is accompanied by a catalogue edited by Julia Meech and Jane Oliver, and including essays by John T. Carpenter, Timothy Clark, Julie Nelson Davis, Allen Hockley, Donald Jenkins, David Pollack, Sarah E. Thompson, and David Waterhouse. Published by Asia Society and Japanese Art Society of America in association with University of Washington Press, Seattle and London, 2008. 256-pp. 200 color illus., index. 12 x 9 1/2 in. (30.8 x 24.2 cm). $45; $40.50 to members of Asia Society and Japanese Art Society of America. Soft cover. ISBN 978-0-295-98786-6. Available at AsiaStore.