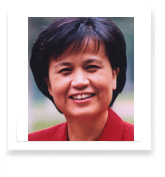 Since 2004, Madam Xu has served as Director-General of Hanban and Chief Executive of the Confucius Institute Headquarters.
Hanban/Confucius Institute Headquarters is a nongovernmental and nonprofit organization affiliated with the Ministry of Education of China. Under Xu Lin's leadership, Hanban/Confucius Institute Headquarters has been committed to making Chinese language and culture teaching resources and services available to the world, meeting the demands of overseas Chinese learners, and contributing to the formation of a world of cultural diversity and harmony.

Xu Lin served as Educational Counselor of Chinese Consulate General in Vancouver, Canada (2000-2003), President of Service Center for Chinese Study Fellows in New York (1999-2000), Vice Director, Finance Department, Ministry of Education (1993-99), and Assistant to Mayor of Xuchang City, Henan Province (1992-93). From 1981 to 1992, she held various posts in the Finance Department of Ministry of Education. Xu Lin graduated from the Chemistry Department of Fudan University in Shanghai and obtained her master's degree in economics from Beijing Normal University. In 2008, she was awarded an honorary doctorate from the University of Arizona.