VISIT
Exhibition dates: Sept. 9, 2010–Jan. 2, 2011
Hours: Tuesday–Sunday, 11:00 am–6:00 pm, with extended evening hours Fridays until 9:00 pm
Holiday Hours: Asia Society Museum and AsiaStore will close at 3:00 pm on December 24 and 31, 2010 (Christmas Eve and New Year's Eve) and are closed entirely on December 25, 2010 and on January 1, 2011.
Cost: $10; $7 for seniors and $5 for students with ID; free for members and persons under 16.
Location: Asia Society Museum, 725 Park Avenue (at 70th Street), New York, NY


View Larger Map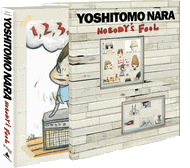 Fully Illustrated Catalog Available Now!
The first comprehensive monograph on the work of Yoshitomo Nara. Featuring over 250 full-color illustrations, an extensive interview with the artist, and English translations of the artist's Japanese blog.

Buy the Catalog | Shop Asia Store
Critical support for Yoshitomo Nara: Nobody's Fool comes from our lead sponsor for this project, The W.L.S. Spencer Foundation.

Major support provided by Mori Building Co., Ltd., and by Alex Appel in honor of her mother, Carol Appel.

This project is made possible by a grant from the U.S. Institute of Museum and Library Services.

Additional support provided by Joleen and Mitchell Julis; Marianne Boesky Gallery; Susan Hancock & Royal/T, Culver City, California; Harold and Ruth Newman; Toby Devan Lewis; The Cosmopolitan of Las Vegas; Masako H. Shinn; Globus Family; Agnes Gund; Ise Cultural Foundation; Japan Foundation; Elizabeth Blair and Michael Kelter; Yasko and Thierry Porté; The Mary Livingston Griggs and Mary Griggs Burke Foundation.

Support for Asia Society Museum provided by the Asia Society Friends of Asian Art, Asia Society Contemporary Art Council, Arthur Ross Foundation, Sheryl and Charles R. Kaye Endowment for Contemporary Art Exhibitions, Blanchette Hooker Rockefeller Fund, National Endowment for the Humanities, Hazen Polsky Foundation, New York State Council on the Arts, and New York City Department of Cultural Affairs.

Asia Society also wishes to thank the Consulate General of Japan in New York for assistance.
Exhibition Curators
Melissa Chiu and Miwako Tezuka

Asia Society Museum Staff
Melissa Chiu, Museum Director and Vice President, Global Art Programs
Marion Kocot, Director, Museum Operations
Nancy Blume, Head of Museum Education Programs
Wenxiao Guo, Museum Event Coordinator
Martha Kang McGill, Publication Coordinator
Lara Netting, Asia Society Museum Getty Fellow
Hannah Pritchard, Executive Assistant
Jacob M. Reynolds, Associate Registrar
Miwako Tezuka, Associate Curator
Davis Thompson-Moss, Installation Manager
Manabu Yahagi, Museum Intern

Website Credits
Website Design: Core Industries
Executive Director, Online for Asia Society: Bill Swersey
Senior Technical Producer/Web Development for Asia Society: Catherine Colman
Web Development Intern for Asia Society: Darling Jimenez