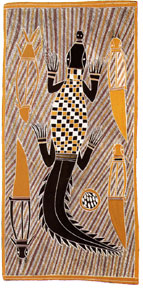 Jimmy Moduk
Baru (Salt water crocodile)
c. 1984

The Native Born is an exhibition of paintings and sculptures by distinguished Australian Aboriginal artists from Ramingining, Arnhem Land in northern Australia. Arranged according to six different natural environments found in this region:mangroves (larrtha'puy), forests (diltjipuy), waterholes (gulunbuy), jungles (retjapuy), beaches (rangipuy) and plains (ninydiyapuy), each painting and sculpture illuminates the specific cultural relationship between the Aboriginal people and the land. Two ephemeral commissioned works are featured: a large-scale wall painting and a sand sculpture.

The exhibition is organized and toured by the Museum of Contemporary Art, Sydney, Australia.
The Native Born is made possible with generous support from The Boeing Company and News Corporation. This project is also assisted by the Australia Council, the Commonwealth Government's arts funding and advisory body, through its Aboriginal and Torres Strait Islander Board, Audience and Market Development Division and Visual Arts/Craft Board.


The international tour of The Native Born is supported by the Department of Foreign Affairs and Trade through the Australia International Cultural Council, and by the Australia Council. Sponsored by Qantas.