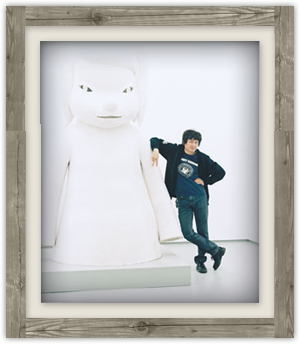 The Artist
Yoshitomo Nara is a leading Japanese Neo Pop artist who is internationally known for his work depicting small children and animals in solitary settings. Nara was born in 1959 in Hirosaki in northern Japan. After receiving a BFA and MFA from the Aichi Prefectural University of Fine Arts and Music, in 1988 Nara moved to Germany—where he would remain for much of the next twelve years—and enrolled at Kunstakademie Düsseldorf. In 1993 he completed his advanced degree under German painter A. R. Penck. In 1998 Nara accepted an invitation to serve as Guest Professor for a graduate course in painting at the University of California, Los Angeles.
He returned to Tokyo from Germany in 2000. Since 2005, he has been based in Tochigi Prefecture, Japan. Nara's first solo exhibition in a public museum, "I Don't Mind If You Forget Me," Yokohama Museum of Art, Yokohama, Japan (2001), generated a massive fan following for Nara. Since 2003, Nara has collaborated with the designer Hideki Toyoshima to build installations that often simulate the atmosphere of the artist's studio. "Yoshitomo Nara + graf: A to Z" (2006), an extensive exhibition and volunteer effort in Nara's hometown of Hirosaki, included twenty-six house-like installations—one for each letter of the English alphabet—plus other structures. Nara has been featured in numerous other group and solo exhibitions in Asia, Europe, and the United States, including the following:
"In the Little Playground: Hitsuda Nobuya and His Surrounding Students" (2009)
Aichi Prefectural Museum of Art, Japan
"Yoshitomo Nara + graf" (2008)
BALTIC Centre for Contemporary Art, Gateshead, United Kingdom
"KITA!!: Japanese Artists Meet Indonesia" (2008)
Cemeti Art House, Yogyakarta, Indonesia
"Sympathy for the Devil: Art and Rock and Roll Since 1967" (2007)
Museum of Contemporary Art, Chicago
Shanghai Biennale (2006)
Shanghai
"From the Depth of My Drawer" (2004)
Hara Museum of Contemporary Art, Tokyo
(toured Japan and Korea through 2005)
"Nothing Ever Happens" (2003)
Museum of Contemporary Art, Cleveland
(toured the United States through 2005)
Photograph by Kenshu Shintsubo.