"It is the supreme art of the teacher to awaken joy in creative expression and knowledge."

– Albert Einstein
If you are an individual educator or group of educators looking to globalize your instruction, we offer various resources, services, and events to support your professional development and to help you globalize your classroom:
Global Competence
A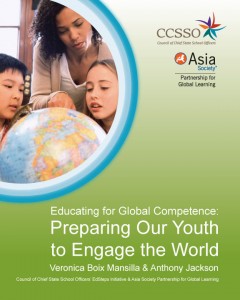 sia Society, in collaboration with the Council of Chief State School Officers, has      defined global competence as the capacity and disposition to use knowledge and skills in various disciplines to understand and act on issues of global significance.
To learn more about our definition of global competence and how schools and educators around the country are utilizing it to successfully bringthe world to their students, read our book Educating for Global Competence: Preparing our Youth to Engage the World.
Learn More
Curricula and Instruction Resources
Asia Society Partnership for Global Learning offers a variety of resources to support educators as they strive to teach their students about Asia and the world. These resources range from globally focused curriculum modules and online learning suites to practical advice and ideas based on international research on what is working to prepare students for the global innovation age.
Curriculum
The GPS is a system of curriculum, instruction, and assessment. It serves as a process to help educators to develop and refine their instruction continuously in order to drive improvement in teaching and student achievements. The curricula are rigorous, relevant, and globally significant. In our opinion, GPS curriculum modules exemplify what high-quality, global teaching looks like.
We currently offer curricula in five content areas that can be downloaded to your computer or tablet device.
Learning about the Beauties and Patterns of Language (World Languages)
World Hunger (Pre-calculus)
Euro Crisis (Social Studies)
Wayfinding (Arts)
The Social Entrepreneur in You (English Language Arts)
We plan to release more GPS curriculum modules  in the coming months.
Learn More
Online Learning Suites 
China & Globalization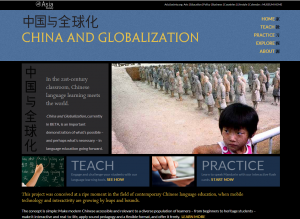 China and Globalization is a new website from Asia Society. It offers teaching and learning tools in both Chinese and English and can be utilized in Chinese language classrooms and beyond. The site features several multimedia features, like contextual videos and flashcards. Most of all, it is an important demonstration of what's possible—and perhaps what's necessary—in language education going forward.
China and Globalization strives to connect Chinese language learning with China's rich culture and history. The site reflects our belief that a country's language and culture are deeply intertwined and that a meaningful understanding of either requires exploration of both.
Lessons include topics such as "Tea Time", "Markets of the Past and Present", and "All the Rage: Fashion of the Tang Dynasty".
Homeland Afghanistan
Homeland Afghanistan is a website that explores the geopolitical and cultural heritage of Afghanistan through a humanities perspective.
Afghanistan served as a meeting place of peoples, cultures, and influence in the ancient world–and today. This website will help you and your students gain a better understanding of people and patterns and will compel you to think differently about this complex world region. The history is told through 75 video episodes, featuring leading experts–as well as hundreds of archaeological finds, paintings, literary works, music, photographs, and documentary films.
From the Silk Road to the rise of the Taliban, Homeland Afghanistan allows you and your students to explore Afghanistan's history, culture, and traditions.
Lesson Plans, Articles, & Guidebooks
Our website also offers a range of articles, plans, and ideas to help educators create globally focused learning experiences for their students. These resources cover topics such as how Twitter can help educators connect with their globally minded peers around the world, how to promote global competence through children's literature, suggestions for how educators can create partnerships with local businesses, and how online games can prepare students for the global knowledge economy.
Learn More
We also offer a series of guidebooks to help educators infuse global learning into their schools and classrooms. These guide books include:
Educating for Global Competence: Preparing our Students to Engage the World

Ready for the World: Preparing Elementary Students for the Global Age 

Going Global: Preparing our Students for an Interconnected World
Creating a Chinese Language Program in Your School: An Introductory Guide
Chinese Language Learning in the Early Grades: A Handbook of  Resources and Best Practices for Mandarin Immersion
Expanding Horizons: Building Global Literacy in Afterschool Programs
The guidebooks are available as PDF downloads on our website.
Professional  Development
We also offer several professional development opportunities for educators that allow us to engage with individual educators that are seeking to better prepare their students for the globalized future.
Online Courses 
Beginning in the fall of 2013, we will offer online professional development courses that will help educators seeking to learn innovative techniques to  integrate global learning into their classrooms.
Learn More
Webinars
Global Learning for Educators is a free, year-long webinar series. The 2012-2013 line-up featured a variety of presentations.  Last year's topics included:
Introduction to Project-Based Global Learning
Integrating International Perspectives into U.S. History – Resources for the Challenges Facing Today's Teacher
Students as Linguists and Diplomats: Eight Principles for Creative World Language Teaching
Recordings and slides from past webinars are available on our website. We hope you'll utilize these resources to guide school and community discussions on how to best prepare your students for work and citizenship in the 21st century.
The next webinar series will begin in the Fall of 2014. 
To join the webinar mailing list, sign up here.
Conferences
The Education Department holds two major conferences per year. The National Chinese Language Conference draws over 1,200 educators and policymakers each spring, while the Partnership for Global Learning Forum draws nearly  600 participants each summer.
Partnership for Global Learning Annual Conference 
Success in college and the workplace now require global knowledge and skills. The Asia Society Partnership for Global Learning annual conference is dedicated to preparing American students to be globally competent and ready for college.
The two-day event connects educators, business leaders, policymakers and resource providers to share best practices, build partnerships and advance policies to ensure the next generation is ready to lead in an interconnected world.
The conference features big-name innovators as well as dozens of hands-on workshops. Master teachers from high-performing countries will share their models of high achievement and global competence. Policymakers will come to hear what you advocate to improve student achievement. Perhaps most important of all is a chance for globally-minded educators to meet and to collaborate.
To join our conference mailing list, sign up here. 
National Chinese Language Conference 
The National Chinese Language Conference (NCLC) is an annual event dedicated to encouraging dialogue and ensuring wide-scale success and innovation in the field of Chinese language education.
NCLC is the largest annual gathering of practitioners, policymakers, and school leaders with an interest in Chinese language teaching and learning in North America, and a key venue for bringing together U.S. and Chinese educators in the field.
 To join our conference mailing list, sign up here.