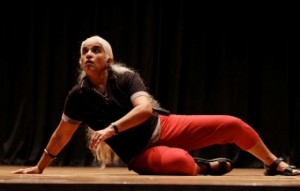 As a run up to the International Women's Day on March 8, WALK will finally have its Mumbai debut at the Asia Society Mumbai Center after more than thirty performances in various spaces like offices, schools, colleges, on the streets, and at the 2013 Jaipur Literature Festival. This was the response of the theatre artiste to the horrendous tragedy that transpired in New Delhi, December of 2012. The artist interacts with the audience through provoking the observer, to reflect and understand the monologist.
Issues concerning violence towards women are still prevalent. In South Asia, where work on women empowerment is far from over, and is still evolving as the day goes by, WALK aims to be a catalyst to contribute further to the ongoing efforts for full women empowerment in all spheres of private and public life.
Maya Krishna Rao was trained in Kathakali and later on moved to Jawaharlal Nehru University in New Delhi, where she studied politics. Her last stop was in Leeds University, where she immersed herself in theatre arts work. She's currently a Professor of Theatre at Shiv Nadar University. She is an internationally recognized creative performer. Her style provokes and invokes for action, has been her signature intent since her Theatre Union days.
Follow the link for more details:  WALK
The Asia Society India Center invites you to a Women of Asia program as part of their International Women's Day series of events on A New Women's Revolution in the Making? with Margaret Alva, Governor, Rajasthan, India, Melanne S. Verveer, Ambassador-at-Large, Global Women's Issues, United States and Shirin S. Chaudhury, State Minister, Ministry of Women and Children Affairs, Bangladesh; Penny Lowe, Member of Parliament, Singapore; and moderated by Vishakha Desai, President Emerita, Asia Society, and Special Advisor for Global Affairs, Columbia University.
WHEN: Friday, April 12th, 2013, 6.30pm, registration begins at 6.00pm
WHERE: India International Centre, Multipurpose Hall, #40, Max Mueller Marg, Lodhi Estate, New Delhi, DL 110003.
RSVP REQUIRED: asiasociety@asiasociety.org.in
This program commences Asia Society's 2013 Women Leaders of New Asia conference.
Women of Asia: A New Women's Revolution in the Making?
While the Asia Pacific region has made great strides in narrowing the gender gap in recent decades, significant disparities remain within individual countries and across the region. Why in this day and age, are women still subjected to unimaginable violence, systemic discrimination and barriers that stymie their potential and progress? What explains the dichotomy between societal demands to redress discriminatory cultural practices versus the political will to address legal challenges and initiate structural reforms, both in Asia as well as in the West? In the rapidly changing Asia, what opportunities are available for women as they endeavor to lead economically, politically and socially? How do we ensure that policy is actually put into action?
Margaret Alva is the Governor of Rajasthan and former Governor of Uttarakhand. She is a senior leader of the Indian National Congress and was Secretary General of the All India Congress Committee..She has previously served as Union Minister of State for Women and Child Development and Chairperson of the Committee on the Empowerment of Women. She has also been a Member of the Rajya Sabha and Lok Shabha.
Shirin Sharmin Chaudhury is the State Minister of the Ministry of Women and Children Affairs of the Government of the People's Republic of Bangladesh. She is a Member of the 9th Parliament of Bangladesh, from the Bangladesh Awami League. She is also a member of the Central Committee of Bangladesh Awami League. She is a member of the Standing Committee in the Parliament relating to Rules of Procedure. She is an Advocate of the Supreme Court of Bangladesh.
Melanne S. Verveer is the first United States Ambassador-at-Large and Director of the State Department's office for Global Women's Issues. She is also Executive Director of the Georgetown Institute for Women, Peace and Security. She is the former Chief of Staff to First Lady of the United States Hillary, Rodham Clinton, and Co-founder and Chairman of the Board of the Vital Voices Global Partnership, an international non-governmental organization that supports global women's leadership.
Penny Low was first elected to Singapore's Parliament in 2001, as one of the youngest female MPs in Singapore. Amongst many public portfolios, she has chaired the Government Parliamentary Committee for the Ministry of Information, Communication and the Arts, and has had oversight over the Ministry of Finance, Trade and Industry, the Ministry of Education, the Ministry of National Development and the Ministry of Environment and Water Resources. A passionate advocate for social entrepreneurship, in 2006, she founded Social Innovation Park Ltd.
Vishakha Desai is President Emerita of Asia Society. She is an Independent Director at Mahindra & Mahindra, Special Advisor to the President at Columbia University, and a Professor at Columbia University's School of International and Public Affairs. She previously served as Asia Society's Senior Vice President of Museum and Cultural Programmes, and as President of the Association of Art Museum Directors.
To submit your questions in advance for the speakers, please email asiasociety@asiasociety.org.in
The Women of Asia series promotes the collaboration and leadership of accomplished women through a range of informative and network building forums that facilitate the sharing of best practices, critical issues and personal experiences. Our series of International Women's Day events has included a discussion on Violence and Women: The Way Forward, and the India Premiere of Salaam Dunk, a film about the first women's basketball team at the American University of Iraq, Sulaimani.
To learn more about upcoming programs, please visit www.asiasociety.org/centers/india