International Women's Day with Maya Krishna Rao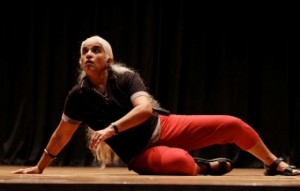 As a run up to the International Women's Day on March 8, WALK will finally have its Mumbai debut at the Asia Society Mumbai Center after more than thirty performances in various spaces like offices, schools, colleges, on the streets, and at the 2013 Jaipur Literature Festival. This was the response of the theatre artiste to the horrendous tragedy that transpired in New Delhi, December of 2012. The artist interacts with the audience through provoking the observer, to reflect and understand the monologist.
Issues concerning violence towards women are still prevalent. In South Asia, where work on women empowerment is far from over, and is still evolving as the day goes by, WALK aims to be a catalyst to contribute further to the ongoing efforts for full women empowerment in all spheres of private and public life.
Maya Krishna Rao was trained in Kathakali and later on moved to Jawaharlal Nehru University in New Delhi, where she studied politics. Her last stop was in Leeds University, where she immersed herself in theatre arts work. She's currently a Professor of Theatre at Shiv Nadar University. She is an internationally recognized creative performer. Her style provokes and invokes for action, has been her signature intent since her Theatre Union days.
Follow the link for more details:  WALK