Featured Women in Leadership: Pat Gallardo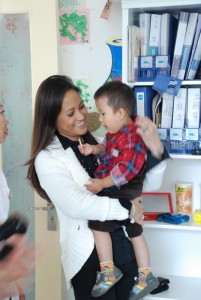 For over four years now, Pat Gallardo-Dwyer has been spearheading Shangri-La Hotels and Resorts' efforts as the group's global Director of CSR and Sustainability. She oversees, directs, and leads the implementation of CSR efforts in about 73 hotels and resorts worldwide.
During her tenure, Shangri-La has marked a number of firsts and recently became the first hotel company to be listed in the Hang Seng Sustainability Index for two years in a row. Shangri-La has also become a finalist in the World Travel and Tourism Council's Tourism for Tomorrow's Awards in 2011 and just last month, became one of Travel and Leisure magazine's Global Vision Awards for Leadership winners. 
Pat launched a campaign in 2009 entitled, Sustainability: Shangri-La's Social Responsibility, a global CSR campaign aligning hotels with a CSR strategy that aims to ensure focus in five areas of CSR: namely Stakeholder Relations, Health & Safety, Environment, Supply Chain, and Colleagues. Two major projects were also realized, Embrace: Shangri-La's Care for People which commits hotels to long-term education and health programs in local organizations—changing the lives of over 9,000 children; and  Sanctuary: Shangri-La's Care for Nature, a project which unites all the habitat restoration and species conservation initiatives amongst the hotel's resort destinations. Sanctuary today is not only found in all of Shangri-La's 11 resorts, but also in city hotels in China such as Xian, Shenyang, Beijing and Qingdao and soon, Chengdu for the panda sanctuary.
Pat has an MA in Globalization and Governance from the University of Birmingham (a joint program with the London School of Economic), and is an Asia 21 Fellow with the Asia Society.