In conjunction with the UN Commission on the Status of Women Conference, Deputy Director of UN Women Lakshmi Puri, Deborah Gillis, Kaoriko Kuge, and Nobuko Sasae explore the ways in which women have affected Asia's workforce in the 21st century.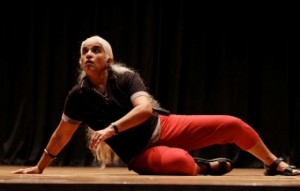 As a run up to the International Women's Day on March 8, WALK will finally have its Mumbai debut at the Asia Society Mumbai Center after more than thirty performances in various spaces like offices, schools, colleges, on the streets, and at the 2013 Jaipur Literature Festival. This was the response of the theatre artiste to the horrendous tragedy that transpired in New Delhi, December of 2012. The artist interacts with the audience through provoking the observer, to reflect and understand the monologist.
Opposition parliamentarian Mu Sochua, a delegate of this year's Women Leaders of New Asia summit, saw her brave countrywomen standing up to corruption and demanding change during the country's most recent election. Read Mo Sochua's full article on the Daily Beast, here.
THE OTHER HALF OF TOMORROW is a portrait of contemporary Pakistan as seen through the perspectives of Pakistani women working to change their country. A series of seven linked chapters, the film introduces us to the disparate contexts that make up a complex culture — from a women's rights' workshop in a village in rural Punjab, to an underground dance academy in Karachi, to the playing fields of the Pakistan Women's Cricket Team.
WLNA Advisory Committee member and delegate Astrid Tuminez has participated in a number of key activities recently, including the World Economic Forum on East Asia, last June in Myanmar, and in Vietnam where she conducted lectures on leadership lessons at the Ho Chi Minh Academy.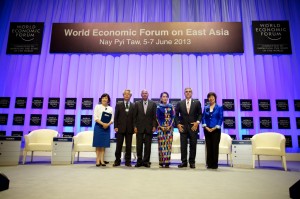 Former WLNA delegate Annie Koh participated in a panel discussion titled Taking Myanmar to Work at the recently concluded World Economic Forum on East Asia in Nay Pyi Taw, Myanmar. In a panel comprised of Daw Aung San Suu Kyi; Hiroto Arakawa, Vice-President Japan International Cooperation Agency (JICA); Subramanian Ramadorai, Vice-Chairman, Tata Consultancy Services, India and Co-Chair of the World Economic Forum on East Asia; and Jaime Augusto Zobel de Ayala II, Chairman and CEO, Ayala Corporation, Philippines, the discussion focused on the steps that are needed in order to match the demand for skilled workforce and to foster innovation, as Myanmar opens up to new business and investment opportunities. Read more
In this podcast, Astrid S. Tuminez and Tanvi Gautam talk about Astrid's career and the lessons she learnt along the way that will benefit women as they navigate the ups and downs of their careers.
Listen to the podcast here: http://wowfactor.asia/podcast-with-astrid-s-tuminez/ (Runtime: 30 minutes)
Astrid S. Tuminez is Microsoft's Regional Director of Legal and Corporate Affairs (LCA) in Southeast Asia. She is also an Adjunct Professor and the former Vice-Dean (Research) of the Lee Kuan Yew School of Public Policy (National University of Singapore). Previously, at the U.S. Institute of Peace, she assisted in advancing peace negotiations between the Philippine government and the Moro Islamic Liberation Front. Dr. Tuminez was also Director of Research for alternative investments at AIG Global Investment. In the 1990′s, she ran the Moscow office of the Harvard Project on Strengthening Democratic Institutions. She was also a Program Officer at the Carnegie Corporation of New York and a Life Member of the Council on Foreign Relations.
She is the author of Russian Nationalism Since 1856: Ideology and the Making of Foreign Policy and other publications. Most recently, she authored "Rising to the Top? A Report on Women's Leadership in Asia," a joint project with the Asia Society, The Rockefeller Foundation, and the Lee Kuan Yew School. She has been a U.S. Institute of Peace Scholar, a Freeman Fellow of the Salzburg Global Seminar, a Harvard Kennedy School Fellow, a Distinguished Alumna of Brigham Young University, and a fellowship recipient of the Social Science Research Council and the MacArthur Foundation. Dr. Tuminez sits on the board of ASKI Global, an NGO that trains and finances entrepreneurship for migrant workers, and is on the International Advisory Board of the Asian Women's Leadership University project.
With news reports focusing on acts of terrorism (i.e. suicide bombings and drone attacks) and the forced repression of women (i.e. the story of Malala Yousafzai), it often seems like the media has written Pakistan off as a lost cause. Yet WLNA 2013 delegate Anja Manuel points out that, all too often, the media overlooks Pakistan's more hopeful story about the progress that Pakistan's women have made in the political arena. In fact, more than 200 women are running for National Assembly seats in Pakistan's May 11 elections, and more than 500 are running for Provincial Assembly seats–these are incremental but important gains for Pakistani women!
For Anja Manuel's full article, click HERE.
Women's Pathways to Leadership in Asia (WPLA) is a program that came about through the joint efforts of  Lee Kuan Yew School of Public Policy and Asia Society. Headed by our WLNA summit delegates Astrid Tuminez and Vishakha Desai, WPLA seeks to highlight policies and practices that undermine or advance gender parity and women's leadership in Asia. The WPLA web site serves as a great resource for the latest information and research on women's leadership in Asia.
While you're there, you can also check out the WPLA blog with Astrid Tuminez's latest blogpost entitled 'Kimchi Paradigm' Offers New Insights Into Success at Asian Women Leaders Conference
Nisha Agrawal, a delegate at this year's Women Leaders of New Asia summit, was a contributor to an Oxfam policy brief entitled "Development After 2015," which was based on various consultations Oxfam India conducted throughout India. One of those consultations was done in collaboration with UN Women and asked 70 to 80 women's organizations in India about the post-MDG world in the area of women's rights and empowerment.
Here is an introduction to the Oxfam India policy brief:
The Millennium Development Goals (MDGs) have been a great laboratory for poverty reduction, with major successes and frustrating failures. These fifteen years of experience provide us the wisdom to do better in a deeply changed world. This paper summarises the outcomes of consultations and studies around the question: what new framework will make a difference for groups in India that face acute poverty and social exclusion? The question brings several challenges to the forefront—addressing inequalities and exclusion; impacting on the politics of poverty in sovereign nations; financing the goals in a context where the role of aid is diminishing. The paper proposes to address these challenges in 10 goals that build on the current framework but will help make a difference for those at the very bottom.
This paper was written by Lucy Dubochet, Research Manager, Oxfam India, with contributions from Nisha Agrawal, Chief Executive Officer, Avinash Kumar, Director – Policy, Campaigns and Research; M. Kumaran, Programme Coordinator – Food Justice; Vanita Suneja, Economic Justice Lead Specialist; Anjela Taneja, Programme Coordinator – Education; Julie Thekkudan, Gender Justice, Lead Specialist; Deepak Xavier, Essential Services Lead Specialist.
Click here to download the policy brief.
Nisha Agrawal is the CEO of Oxfam India. Since her appointment in March 2008, she has successfully led a complex change of management process that integrated the programs and staff of the six Oxfams that had been previously operating in India. She also led a highly consultative process to formulate Oxfam India's new strategy entitled "Demanding Rights, Creating Opportunities" that lays out its vision, mission, and programs for 2010-2015. The strategy provides a direction and focus to Oxfam's work in the seven poorest states of India and with the four most marginalized social groups (Women, Dalits, Tribals, and Muslims). It also provides a thematic focus in the four areas of economic justice, gender justice, essential services, and humanitarian work. Oxfam India is a rights-based organization that funds about 180 NGOs that work at the grassroots level to empower communities and ensure a life of dignity for all