Opposition parliamentarian Mu Sochua, a delegate of this year's Women Leaders of New Asia summit, saw her brave countrywomen standing up to corruption and demanding change during the country's most recent election. Read Mo Sochua's full article on the Daily Beast, here.
THE OTHER HALF OF TOMORROW is a portrait of contemporary Pakistan as seen through the perspectives of Pakistani women working to change their country. A series of seven linked chapters, the film introduces us to the disparate contexts that make up a complex culture — from a women's rights' workshop in a village in rural Punjab, to an underground dance academy in Karachi, to the playing fields of the Pakistan Women's Cricket Team.
WLNA Advisory Committee member and delegate Astrid Tuminez has participated in a number of key activities recently, including the World Economic Forum on East Asia, last June in Myanmar, and in Vietnam where she conducted lectures on leadership lessons at the Ho Chi Minh Academy.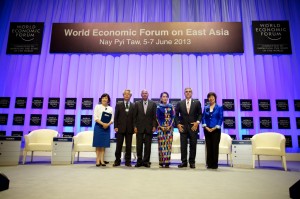 Former WLNA delegate Annie Koh participated in a panel discussion titled Taking Myanmar to Work at the recently concluded World Economic Forum on East Asia in Nay Pyi Taw, Myanmar. In a panel comprised of Daw Aung San Suu Kyi; Hiroto Arakawa, Vice-President Japan International Cooperation Agency (JICA); Subramanian Ramadorai, Vice-Chairman, Tata Consultancy Services, India and Co-Chair of the World Economic Forum on East Asia; and Jaime Augusto Zobel de Ayala II, Chairman and CEO, Ayala Corporation, Philippines, the discussion focused on the steps that are needed in order to match the demand for skilled workforce and to foster innovation, as Myanmar opens up to new business and investment opportunities. Read more
In this podcast, Astrid S. Tuminez and Tanvi Gautam talk about Astrid's career and the lessons she learnt along the way that will benefit women as they navigate the ups and downs of their careers.
Listen to the podcast here: http://wowfactor.asia/podcast-with-astrid-s-tuminez/ (Runtime: 30 minutes)
Astrid S. Tuminez is Microsoft's Regional Director of Legal and Corporate Affairs (LCA) in Southeast Asia. She is also an Adjunct Professor and the former Vice-Dean (Research) of the Lee Kuan Yew School of Public Policy (National University of Singapore). Previously, at the U.S. Institute of Peace, she assisted in advancing peace negotiations between the Philippine government and the Moro Islamic Liberation Front. Dr. Tuminez was also Director of Research for alternative investments at AIG Global Investment. In the 1990′s, she ran the Moscow office of the Harvard Project on Strengthening Democratic Institutions. She was also a Program Officer at the Carnegie Corporation of New York and a Life Member of the Council on Foreign Relations.
She is the author of Russian Nationalism Since 1856: Ideology and the Making of Foreign Policy and other publications. Most recently, she authored "Rising to the Top? A Report on Women's Leadership in Asia," a joint project with the Asia Society, The Rockefeller Foundation, and the Lee Kuan Yew School. She has been a U.S. Institute of Peace Scholar, a Freeman Fellow of the Salzburg Global Seminar, a Harvard Kennedy School Fellow, a Distinguished Alumna of Brigham Young University, and a fellowship recipient of the Social Science Research Council and the MacArthur Foundation. Dr. Tuminez sits on the board of ASKI Global, an NGO that trains and finances entrepreneurship for migrant workers, and is on the International Advisory Board of the Asian Women's Leadership University project.