To document the dramatic loss of glacial mass in High Asia, the Glacier Research Imaging Project (GRIP) team has deployed an unusual resource: archival photographs taken in the past century by the world's greatest mountain photographers. GRIP's photographers have retraced the steps of these artistic pioneers and captured new images that precisely match the early photographic records.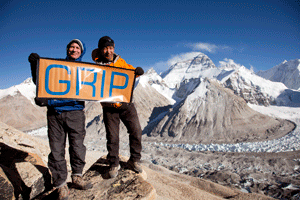 View of the artist's studio.
GRIP is using the power of images to raise public awareness and shape policy focused on mitigation and adaption to the climate crisis.
GRIP is led by mountaineer and photographer David Breashears and is a joint project of Asia Society Center on U.S.-China Relations and GlacierWorks.
Rivers of Ice is the first show of GRIP's photography in the United States. Previous installations of GRIPs work have been seen at the Project Syndicate Global Editors' Forum, From Kyoto to Copenhagen in Copenhagen, Denmark; in New Delhi at the Asia Society Corporate Conference and most recently at Mount Everest Base Camp (see slideshow below).