"Education is the most powerful weapon which you can use to change the world."

- Nelson Mandela
The U.S. Department of Education has devoted more funding to schools than ever before in history: $100 billion in education funding will be tied to the idea of creating a world-class education system. The federal government has created an incentive system to reward American school systems that produce results and help drive American success in the global innovation age.
Much of this funding goes to state departments of education and to large districts; they are arguably the most significant investors in human capital. However, the terms and returns of those investments is hotly debated.
Asia Society Partnership for Global Learning convenes top educators from municipalities, states, and nations to tackle common problems and opportunities, and we share those results.
Political will and public will, although divergent at times, can never truly be separated. The ideas on this webpage are for policymakers—and for voters—who wants to know how policy can effectively support good classroom practices.
Global Competence

Research on Best Practices
Policy Advice
Advocate for Global Learning
Global Competence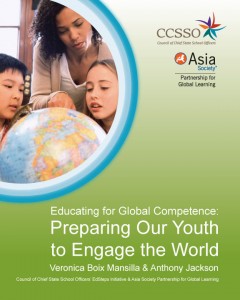 Asia Society, in partnership with the Council of Chief State School Officers, has defined global competence as the capacity and disposition to use knowledge and skills in various disciplines to understand and act on issues of global significance.  This definition has been vetted by experts and practitioners world-wide and been adopted by numerous organizations, including the U.S. Department of Education.
To learn more about this definition, read our book Educating for Global Competence: Preparing our Youth to Engage the World.
Learn More
Research on Best Practices
Through our work both within the United States and around the world, we are able to learn from and with some of best educators and education systems in the world. We strive to share best practices from around the world with educators and school leaders, so that they can begin to implement them in their schools and classrooms.
International Summit on the Teaching Profession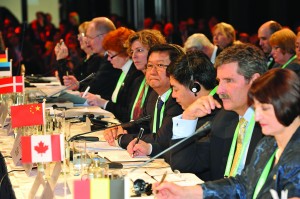 What are proven ways for school systems to change in an effort to prepare students for the 21st century? This is the question that drives an annual meeting of  education ministers, master teachers, national union leaders, and education organization leaders  from countries with high performing and rapidly improving educational systems. The purpose of the gatherings is to identify best practices worldwide that strengthen the teaching profession and raise student achievement. Summit organizers, in collaboration with Asia Society, produce a publication each year on key lessons.
The first two summits in 2011 and 2012, held in the United States and hosted by U.S. Secretary of Education Arne Duncan, developed a consensus that achieving a high-quality teaching profession is critical to education systems as they face the increasingly ambitious demands of the 21st century. Moreover, the highest performing countries are successful because they take a comprehensive approach to recruiting, preparing, supporting, and retaining talented teachers and school leaders. The Summits spurred action on these issues in many of the participating countries over the past two years.
The 2013 Summit, which was hosted by the Dutch Ministry of Education, OECD, and Education International (the global federation of teachers' unions), took on the complicated issue of teacher evaluation.
These reports provide policymakers around the world with concrete policy ideas and actions that are successfully improving teaching and learning around the world. We encourage policymakers interested in promoting global education and higher levels of student achievement to utilize these valuable reports.
The Global Cities Education Network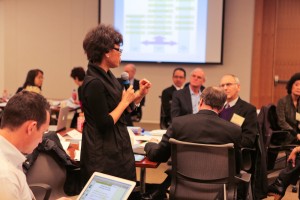 From our Global Cities Education Network (GCEN)  we are currently learning from high-performing cities in North America and in Asia what it takes to equity in access to a high- quality education system. This initiative has demonstrated to us, yet again, the vital role of teachers in ensuring that students, despite differences in socio-economic background, are achieving at high levels. From the research completed as part of this initiative we have been able to document policies that allow cities to create and sustain a quality teaching force and to ensure that all students are learning. While much of this research is directed towards the district level, there are clear school-level lessons and policy changes that can improve teaching and learning at your school.
The Global Cities Education Network has released several background papers, case studies, and meeting reports, which document the lessons learned through the activities and inquiries of the network. We strongly recommend that policymakers interested in learning
Learn More 
Advocate for Global Learning
See best practices in leadership, resources, teacher prep and professional development, curriculum, and instruction. Our rubric maps what beginning, developing, advanced, and explemary practices look like, so stakeholders can assess their own state progress and have a vision for the future. The rubric was developed by state policymakers and includes real-world examples drawn from more than 25 states. These tools may be scaled to the district or community level, too.
Ten questions to consider
State strategies rubric
Curriculum inventory
Gather economic data
Expand foreign language programs