"Education is all a matter of building bridges."
- Ralph Ellison
We offer many ways for educators, administrators, and policymakers working at the district level to engage with our work. These opportunities include a variety of resources that can be utilized at the district level and initiatives through which we directly engage with district staff and leaders around the country and the world:
Global Competence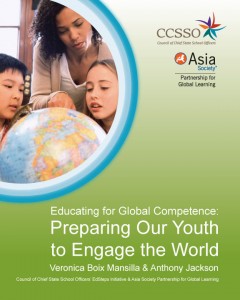 Global competence is the capacity and disposition to use knowledge and skills in various disciplines to understand and act on issues of global significance.  Our definition of global competence has been vetted by education experts and adopted by the U.S. Department of Education.
This definition outlines the skills, dispositions that students must master in order to thrive in the global innovation age. To learn more about global competence and how it is being successfully developed in schools around the country, read our book Educating for Global Competence: Preparing our Youth to Engage the  World.
Learn More 
International Studies Schools Network
Asia Society's International Studies Schools Network is a network of global schools in which we have piloted and refined the Graduation Peformance System (GPS). The GPS is a performance- based system of curriculum, instruction, and assessment and serves as  mechanism to drive educators to develop and continuously refine high-quality, global curriculum and instruction. GPS curriculum, performance outcomes, and rubrics are intentionally aligned to the Common Core State Standards. This system is one of many supports that we provide our ISSN schools as we help them prepare their schools for career and college in an increasingly global world.
Many of the ISSNs are located within the same district. So, our work with them involves a broader partnership at the district level, as well as relationships with individual schools. These relationships involve:
An initial assessment of school culture and global focus

Site visits

On-site coaching work
Professional development workshops and events
Attendance at our annual Partnership for Global Learning Conference
Access to and support utilizing our digital GPS platform, curriculum modules, performance outcomes and rubrics, and I can statements.
Learn More 
Professional Development
We also offer several professional development opportunities that can be utilized at the district level to help administrators, policymakers, and educators better prepare their students for the globalized future.
Online Courses 
Beginning in the fall of 2013, we will offer online courses that will teach educators and school leaders in your district the how to integrate global into their schools and classrooms and give them the opportunity to connect with other globally-minded educators.
Pull text from Honor's description
Learn More
Webinars
Global Learning for Educators is a free, year-long webinar series. The 2012-2013 line-up featured a variety of presentations.  Last year's topics included several that were specifically aimed at district-level staff, such as:
Districts: Go Global and Prepare Students for Success
Identifying Effective Strategies in Urban School Systems
School Leadership in a Changing World
Recordings and slides from past webinars are available on our website.
The next webinar series will begin in the Fall of 2014. 
Learn More 
Conferences
The Education Department holds two major conferences per year. The National Chinese Language Conference draws over 1,200 educators and policymakers each spring, while the Partnership for Global Learning Forum draws nearly  600 participants each summer.
Partnership for Global Learning Annual Conference 
Success in college and the workplace now require global knowledge and skills. The Asia Society Partnership for Global Learning annual conference is dedicated to preparing American students to be globally competent and ready for college.
The two-day event connects educators, business leaders, policymakers and resource providers to share best practices, build partnerships and advance policies to ensure the next generation is ready to lead in an interconnected world.
The conference features big-name innovators as well as dozens of hands-on workshops. Master teachers from high-performing countries will share their models of high achievement and global competence. Policymakers will come to hear what you advocate to improve student achievement. Perhaps most important of all is a chance for educators to meet and to collaborate.
We have team discounts available, if you are interested in sending teams from your schools or the district office.
To join our conference mailing list, sign up here. 
National Chinese Language Conference 
The National Chinese Language Conference (NCLC) is dedicated to encouraging dialogueand ensuring wide-scale success and innovation in the field of Chinese language education .
NCLC is the largest annual gathering of practitioners, policymakers, and school leaders with an interest in Chinese language teaching and learning in North America, and a key venue for bringing together U.S. and Chinese educators in the field.
To join our conference mailing list, sign up here. 
District Reform
Building global competence into all schools throughout a district is a complex process that requires the engagement of the education, government, and business sectors, in addition to nonprofit, community, and parent organizations. The specific goals and structure of any international-education initiative will depend on the district's education policies and resources.
Through a variety of initiatives and resources, we strive to provide districts that are seeking to globalize learning in their schools and better prepare their students for the global innovation age the tools and support that they need to make this necessary change.
Learn More 
Global Competence Planning Rubric
For districts looking to transform learning in their schools and better prepare their students for the global innovation age, we offer the Global Competence Planning Rubric. This tool has been developed by the Asia Society and is based on a version created for states in conjunction with the members of the States Network on International Education in the Schools. Its design was based on the vision and experiences of educational leaders, and its purpose is to assist in the planning and assessment of state- and district-level strategies.
Learn More 
Examples of District Reform
Our website offers a variety of articles and ideas on district reform. These articles range from general recommendations for steps that districts can take to go global to examples of actions that specific cities have taken to ensure that all students in their district receive a 21st century, global education.
Learn More 
International Best Practices
Through our work both within the United States and around the world, we are able to learn from and with some of best educators, experts, and education systems how to best prepare the rising generation for their global future. We strive to share best practices and policies from around the world with educators and school and district leaders, so that they can see what is working around the world and begin to try to implement proven, effective changes in their districts and schools.
International Summit on the Teaching Profession
Each spring, education ministers, master teachers, national union leaders, and education organization leaders convene from countries with high performing and rapidly improving educational systems. The purpose of these gatherings is to identify best practices worldwide that strengthen the teaching profession and raise student achievement. Summit organizers, in collaboration with Asia Society, produce a publication each year on key lessons.
The first two summits in 2011 and 2012, held in the United States and hosted by U.S. Secretary of Education Arne Duncan, developed a consensus that achieving a high-quality teaching profession is critical to education systems as they face the increasingly ambitious demands of the 21st century. Moreover, the highest performing countries are successful because they take a comprehensive approach to recruiting, preparing, supporting, and retaining talented teachers and school leaders. The Summits spurred action on these issues in many of the participating countries over the past two years.
The 2013 Summit, which was hosted by the Dutch Ministry of Education, OECD, and Education International (the global federation of teachers' unions), took on the complicated issue of teacher evaluation.
These reports provide policymakers around the world with concrete policy ideas and actions that are successfully improving teaching and learning around the world. We encourage policymakers interested in promoting global education and higher levels of student achievement to utilize these valuable reports.
The Global Cities Education Network
From our Global Cities Education Network (GCEN)  we are currently learning from high-performing cities in North America and in Asia what it takes to ensure equity in access to a high- quality education. This initiative has demonstrated to us, yet again, the vital role of teachers in ensuring that all students are achieving at high levels. From the research completed as part of this initiative we have been able to document policies that allow cities to create and sustain a quality teaching force and to ensure that all students are learning and achieving at high levels. This research  is directed towards the district level and provides clear lessons and policy changes that can improve teaching and learning in your district.
Learn More