Keynotes
Dan Rather
Rather Outspoken on Education
Dan Rather may be the best-known journalist in the world. He has covered virtually every major event in the world in the past 60 years. His resume reads like a history book, from his unparalleled work covering the assassination of President John F. Kennedy; the civil rights movement; the White House and national politics; wars in Vietnam, Afghanistan, the Persian Gulf, Yugoslavia and Iraq.
Come hear this seasoned journalists and author share perspectives on how the world is changing, and how education systems are responding.
Meet the legend, and get a signed copy of his new book, Rather Outspoken: My Life in the News.
Steve Hargadon, Lucy Gray, Julie Lindsay
Technology and the Future of Education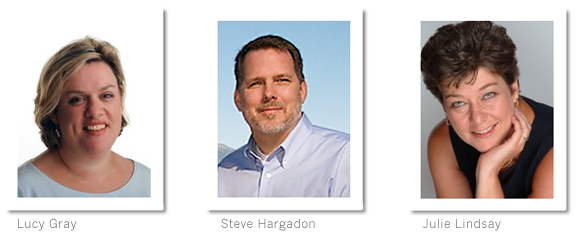 Our all-star panel of digital educators will lead a conversation on the future of education and the important role technology will play.
Lucy Gray is an education technology and social media specialist and consultant. She is an Apple Distinguished Educator, Google Certified Teacher, and innovator in global education, mobile learning. Along with Steve Hargadon, she is co-chair of the annual Global Education worldwide conference.
Steve Hargadon is the Social Learning Consultant for Elluminate/Blackboard Collaborate and the founder of the Web2.0 Labs. He also created the Classroom 2.0 social network, am host of the Future of Education interview series, and co-chair the annual Global Education worldwide conferences, along with Lucy Gray. Hargadon is widely recognized for pioneering the use of social networking in education, particularly for professional development.
Julie Lindsay is a globally minded education innovator. She is the co-creator of Flat Classroom. Originally from Melbourne, Australia where she gained recognition as a music educator, over the past 14 years she has been teaching and leading the use of technology in schools in Zambia, Kuwait, Bangladesh, Qatar, and is currently E-Learning Coordinator and MYP Coordinator at Beijing BISS International School, China.
Tony Wagner
The Making of Young People Who Will Change the World
Educator and author Tony Wagner gives insight on why innovation is imperative to our global competitiveness, and how the the education system must respond. He talks about how to create innovators, and profiles what some of today's most compelling young people are doing.
Tony Wagner recently accepted a position as the first Innovation Education Fellow at the Technology & Entrepreneurship Center at Harvard University. Prior to this, he was the founder and co-director of the Change Leadership Group at the Harvard Graduate School of Education for more than a decade. Tony consults widely to schools, districts, and foundations around the country and internationally. His previous work experience includes twelve years as a high school teacher, K-8 principal, university professor in teacher education, and founding executive director of Educators for Social Responsibility.