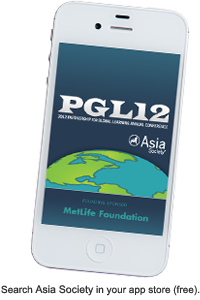 Download the free PGL Conference App. It includes all the latest information about the sessions, speakers, exhibitors, and special events. You can also create a schedule for yourself directly on the app.
Another important feature is the ability to create a profile and to use it as a networking tool. It works with Twitter, Linkedin, and Facebook. If you don't have (professional) accounts, sign up and we'll show you how it works.
The mobile App is accessible on Apple, Android, and Blackberry mobile devices.
Alternatively, search for the free download "2012 Asia Society" on your Android or Apple app marketplaces.
The more conference participants download apps, the more it will help us save paper and printing costs. If we see lots of downloads, we'll cut down on paper programs. That's great for our non-profit budget, and for the environment.
The PGL12 conference app was developed by Core-Apps.
Get the App