Pack your smart phone, iPad, and/or laptop—and don't forget your charger. We'll put your digital devices to work at #NCLC14.
1. NCLC14 Conference App–Plan your schedule, rate sessions, receive program updates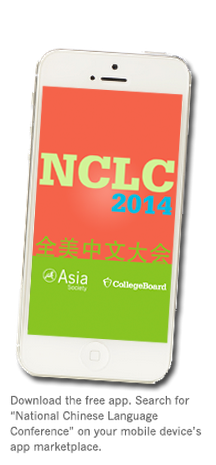 Download the NCLC conference app to:
See the program schedule
Create a custom schedule
Network with others
Take notes
Rate sessions
Download presentations
Share photos
Connect via social media
The app will update with the latest program details, news, and announcements as we get closer to the conference.
Go to your mobile device's app marketplace and search for "National Chinese Language Conference" or "NCLC14″ to install.
2. Twitter App—Network and share ideas in real-time (hashtag: #NCLC14)
3. Camera App—Snap, create, and share images and videos
4. LinkedIn App–Stay connected during and after #NCLC14
5. Global Timezone Clock–Do business and communicate on Pacific Time
See you at the conference—and online.