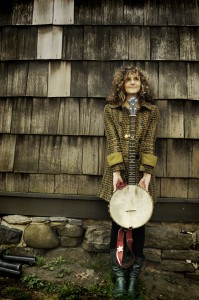 The song-writing, banjo-playing, Chinese-speaking Abigail Washburn is armed with profound connections to culture and people on the other side of the Pacific. She's one of the few foreign artists currently touring China independently and regularly. She completed a month-long tour (Nov-Dec 2011) of China's Silk Road supported by grants from the U.S. Embassy, Beijing. Along with 24 other innovative and creative thinkers worldwide, Washburn was named a TED fellow and gave a talk at the 2012 TED Convention in Long Beach about building U.S.-China relations through music. In March of 2013, she was commissioned by New York Voices and the NY Public Theater to write and debut a theatrical work titled, Post-American Girl, which draws from her 17-year relationship with China and addresses themes of expanding identity, cultural relativism, pilgrimage, the universal appeal of music and opening the heart big enough to fold it all in.
Washburn was recently named the first U.S.-China Fellow at Vanderbilt University. Her efforts to share U.S. music in China and Chinese music in the U.S. exist within a hope that cultural understanding and the communal experience of beauty and sound rooted in tradition will lead the way to a richer existence. Her most recent project, The Wu-Force, is a shining example of her commitment to international exchange. A trio including Wu Fei, a guzheng player, The Wu-Force is a mix of both traditional American and traditional Chinese folk music, sung in both English and Chinese.
Her story is sure to move you: One fateful day 9 years ago, Washburn was miraculously offered a record deal in the halls of a bluegrass convention in Kentucky which changed her trajectory from becoming a lawyer in China to a traveling folk musician. Since then, Abigail has been recording and touring a continuous stream of music. Her music ranges from the "all-g'earl" string band sound of Uncle Earl to her bi-lingual solo release Song of the Traveling Daughter (2005), to the mind-bending "chamber roots" sound of the Sparrow Quartet, to the rhythms, sounds and stories of Afterquake, her fundraiser CD for the Sichuan earthquake victims. Her latest release, City of Refuge (2011), written with collaborator Kai Welch, takes her bold and expansive musical vision to new heights with enigmatic songs that "mingle Appalachia and folk-pop, with tinges of Asia and Bruce Springsteen" (Jon Pareles, The New York Times).
Catch a very special multimedia performance by Washburn at the opening plenary banquet dinner of NCLC14 the evening of Thursday, May 8!
Watch and listen to Washburn and her husband, Béla Fleck, performing 太阳出来喜洋洋 on a city bus in Nashville, Tennessee:

Watch Washburn's TED talk, "Building U.S.-China relations . . . by banjo":