Language learning is on the move.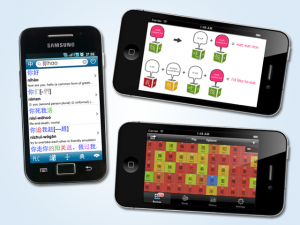 For students of Chinese looking to augment a central text, there are dozens of mobile tools, applications, games, podcasts, and software ready to fill in the gaps. Last month Asia Society launched a new mobile website with lesson ideas and resources, China and Globalization. Both students and teachers are digging into the content. They tell us they find the interactive flashcards to be particularly useful.
This feedback has us thinking: What else is working in Chinese language learning? Following is a sampling of unique, new, or otherwise trending tools.
Skritter | http://www.skritter.com/
Use Skritter's smooth and corrective handwriting input function – with or without traceable templates, your choice – to write simplified and traditional characters, and track your personal progress. Choose vocabulary from more than 181 textbooks and the HSK, or sync your ChinesePod account for continuous study. web, iPhone, iPod / free demo–$9.99 (monthly subscription)
Pleco | http://www.pleco.com
Pleco is a dictionary, document reader, and flashcard system in one. The coolest part? Optical Character Recognition (or OCR): point your device's camera at a printed Chinese word for instant look-up. Pleco also allows handwriting input and supports both traditional and simplified characters. iPhone, iPad, Android / free–$79.95 (for upgrades)
Perapera Chinese | http://www.perapera.org/plugins/
Perapera is a handy Internet add-on that facilitates web browsing in Chinese. By downloading the free plugin and activating it, users see instant translations of words and phrases by simply hovering over Chinese text on any given web page. Firefox and Chrome web browsers / free
StickyStudy | http://www.stickystudy.com/chinese.html
StickyStudy houses decks of flashcards that contain vocabulary for the new HSK, TOCFL, and your own additions. These flashcards are initially all red; each time you answer one correctly, it becomes greener, and eventually (you hope!) it becomes solid green as you learn the vocab. Users can access audio samples by a native speaker and track your personal progress with a "bird's eye view" via a zoom function. iPhone, iPad / free–$4.99
Chinese Cubes | http://www.chinesecubes.com
Chinese Cubes offers learners a chance to try their hands – literally – at augmented reality (or AR). You assemble small cubes, each marked with a certain Chinese character. The software identifies AR markers on the cubes, and recognizes what characters are being used and in what order you've placed them in. Together, the cubes and the software produce interactive audio and visual content on the computer screen to teach the learner how to speak, write, and use these characters. Windows and Mac platform / $149 (for starter pack)
Join the conversation: What tools do you find particularly useful?