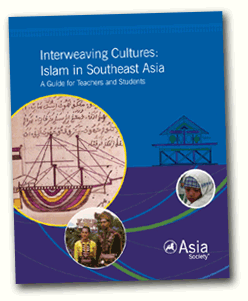 Interweaving Cultures:
Islam in Southeast Asia
This curricular guide, intended for use by teachers in high schools and of introductory college courses, is one of several Asia Society projects designed to foster the study of Islamic communities in Asia as an important and little-studied part of Asia.
Interweaving Cultures features a wide range of primary and secondary resources:
Scholarly essays emphasize the specific rather than the theoretical. Sections from literary works offer vignettes designed to encourage students to read more of these text. A range of illustrations, from scenes of daily life in different parts of Southeast Asia to images of artistic works, enliven the text and can be used to build students' visual literacy. The photographs are important teaching tools. They show different lifestyles, illustrate the mixture of indigenous, Indian, and the West Asian designs in architecture and other art forms, and reveal the differing West and South Asian influences on Indonesian puppet theater. A variety of maps also yield insights about Southeast Asian topography, ethnic and language groupings, traditional trade patterns, and the spread of Islam.
The regional specialists on Southeast Asia who wrote the thematic essays, the educators who devised the lesson plans, and the program director and advisors, recognizing students' different learning sytles, have selected varied curricular materials. Educators thus can use both written and visual material to foster interest in and knowledge of Islam in Southeast Asia.
This website contains the full contents of the printed book.
Order the book.
The book is available in soft-cover, spiral bound form, and includes a CD with full text, color images, and maps. $25 plus shipping and handling. To order, click here. (For best results, please use Internet Explorer.)