A photography exhibit was erected today in Alamgir Lounge at the Taj Palace Hotel in Delhi in preparation for the start of the conference tomorrow. The photographs are part the Glacier Research Imaging Project, a collaboration between the Asia Society Center on U.S.-China Relations and GlacierWorks.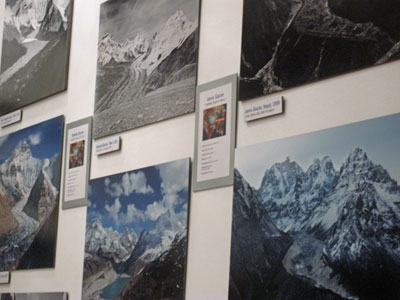 The Glacier Research Imaging Project (GRIP) documents the dramatic loss of glacial mass in the Greater Himalaya by presenting recent photographs of glaciers in the Greater Himalaya by mountaineer and photographer David Breashears alongside archival photographs taken over the past century by some of the world's greatest mountain photographers.
This is an interesting time to be displaying the photographs in India, as much controversy has recently surrounded the IPCC's prediction that the glaciers of the Himalaya would disappear by 2035. One hope for these photos is to transcend the controversy of this prediction and visually depict what has already been lost.