Up to the Mountains, Down to the Villages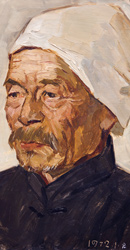 After two years of violent clashes among Red Guard factions and disrupted classes in schools and universities across the country, students were sent to the countryside for "reeducation." Many of their teachers and those who had fallen on the wrong side of politics had been sent to labor camps during the previous decade. It is estimated that between twelve and sixteen million students were sent to rural China between 1968 and 1978. These young adults lived with and did manual labor alongside farmers. For many younger artists, this was a formative period in their lives and artistic careers, and the artworks produced during this period are filled with observations of rural life. Intimate drawings and small-scale paintings created by today's leading Chinese contemporary artists,—including Xu Bing, Chen Danqing, and Zhang Hongtu—during their time in the countryside are exhibited in this exhibition for the first time. Other artists undertook monumental paintings that acquired "model" status when they were sent to Beijing to be included in the annual National Art Exhibitions. One such example is Shen Jiawei's Standing Guard for Our Great Motherland, which was inspired by the artist's experiences in the far northeast of China near its border with Russia.
Intro | Mao | To Rebel | Never Forget | Up to the Mountains | Archive | Long March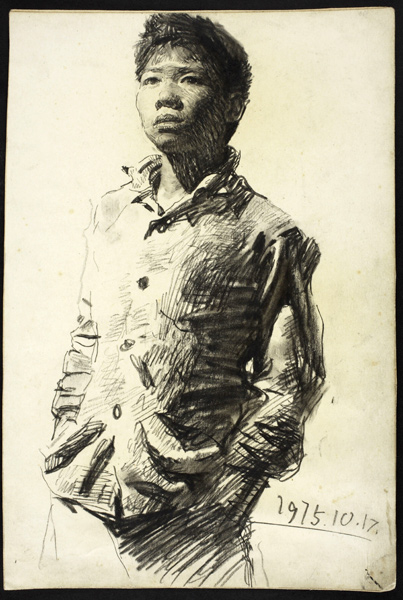 Chen Danqing 陈丹青 (born 1953)
Untitled (Boy)
October 17, 1975
Pencil on paper mounted on board
10 5/16 x 7 in. (26.2 x 17.8 cm)
Collection of Chen Danqing
Chen Danqing was sent to the countryside in Jiangxi in 1970 when he was seventeen years old. As an educated youth from the city, he initially struggled to interact with the local farmers alongside whom he lived and worked. Once the harvesting season was over, however, he was able to immerse himself in reading and sketching outdoors. His most common subjects from this period include farmland, peasants, and domesticated animals.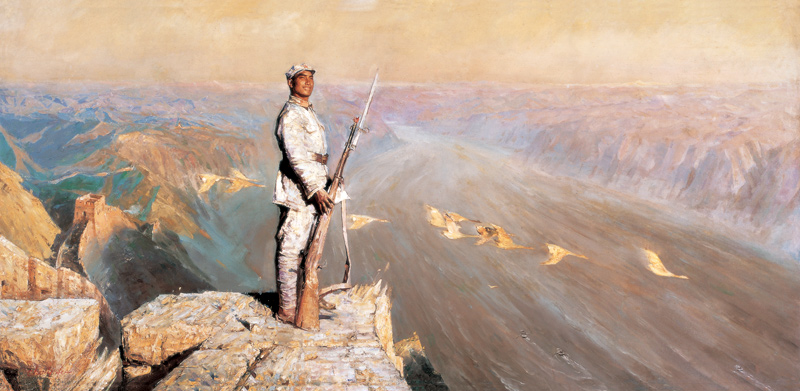 Chen Yifei 陈逸飞 (1946–2005)
Eulogy of the Yellow River
1972
Oil on canvas
56 1/2 x 117 in. (143.5 x 297 cm)
Taikang Life Insurance
In 1972, Shanghai authorities commissioned a group of young artists, including Chen Yifei, to create paintings based on the Yellow River Cantata, a piece of music written by composer Xian Xinhai and poet Guang Weiran in 1938. During the Cultural Revolution, pianist Yin Chengzong had adapted the original music into a piano concerto, which earned praise from Mao's wife Jiang Qing. The title of Chen Yifei's painting, Eulogy of the Yellow River, is drawn from the lyrics of the original music. The work was first publicly exhibited at the National Art Exhibition of the People's Liberation Army in Beijing in 1977.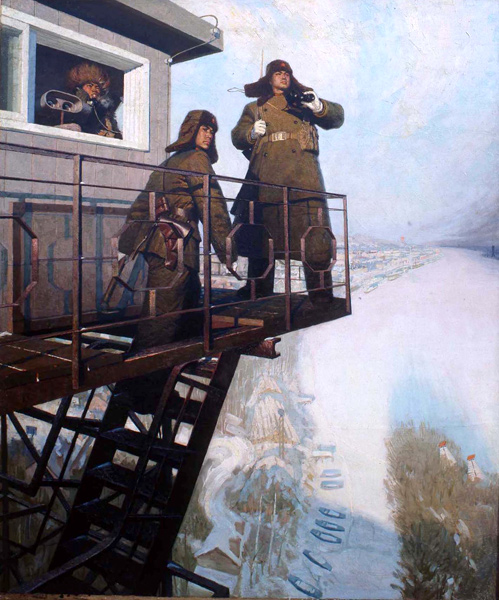 Shen Jiawei 沈嘉蔚 (born 1948)
Standing Guard for Our Great Motherland
1974
Oil on canvas
74 7/16 x 62 3/16 in. (189 x 158 cm)
Collection of Shen Jiawei
At the age of twenty-six, Shen Jiawei was sent to Heilongjiang province in the far northeast of China and was assigned to work with a division of the People's Liberation Army. The military base was very close to China's border with Russia, and border conflicts with the Soviet Union were common. This painting portrays three heroic Chinese soldiers guarding the border against Soviet threat. The work was singled out for praise by Mao's wife Jiang Qing and became immensely popular. It was reproduced in newspapers, magazines, posters, and even on a ten-meter-high tower that faced the Soviet Union.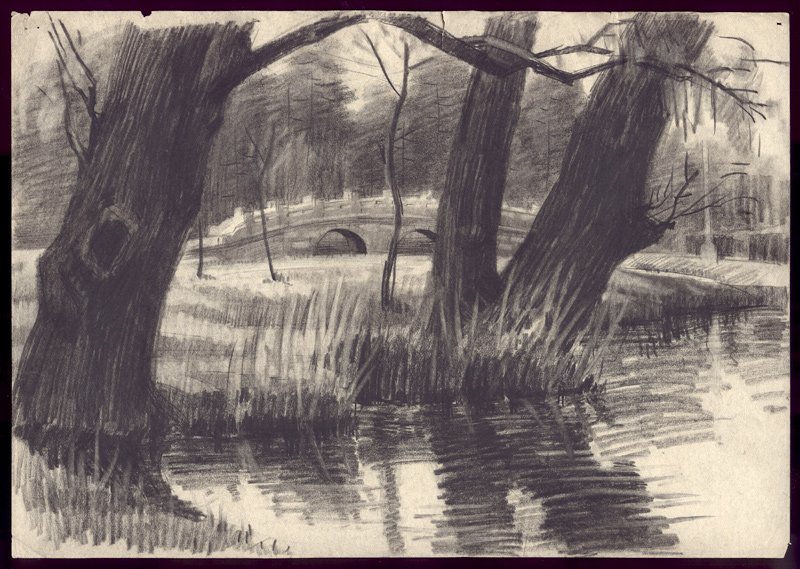 Xu Bing 徐冰 (born 1955)
Untitled
n.d.
Charcoal on paper
10 1/2 x 15 in. (26.7 x 38.1 cm)
Collection of Xu Bing
In 1975, at the age of twenty, Xu Bing was sent to the countryside for three years with his schoolmates. The experience was mostly a positive one as he was free to pursue art and spent much time drawing from nature after his day of work in the field was over. His exposure to local cultures, propaganda art, and calligraphy during the Cultural Revolution had a strong influence on his artistic philosophy and methodology. He reflects:
I gained the skills as a painter and artist at this time. . . . It was also the time when
I started to become a "contemporary artist," although I had no idea what contemporary art was. But in a sense, lots of things that we did gave us the skills necessary to be artists, and also the spirit of "avant-gardism."
Xu Bing grew up in Beijing and studied at the Central Academy of Fine Arts where he now presides as Vice President. Today, he is one of the most well-known Chinese contemporary artists, and is known for his "square calligraphy" and language-based installations.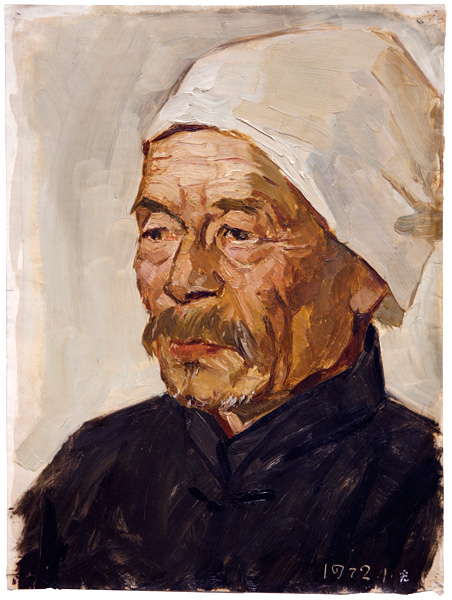 Zhang Hongtu 张宏图 (born 1943)
Untitled (Peasant)
1972
Oil on paper
15 1/4 x 10 3/4 in. (38.7 x 27.3 cm)
Collection of Zhang Hongtu
In 1969, Zhang Hongtu's entire school was sent to Hebei province in northern China for "reeducation." During his third and final year in the countryside, Zhang Hongtu completed a series of small oil painting—exhibited here for the first time—of rural life and the peasants with whom he lived and worked.
Intro | Mao | To Rebel | Never Forget | Up to the Mountains | Archive | Long March