Cult of Mao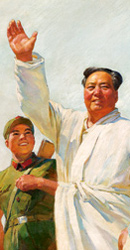 The earliest published portrait of Mao Zedong was created in 1933. In this early period, portraits of Mao were most often woodblock prints and varied greatly in style. When the People's Republic of China was founded in 1949, portraits of Mao were standardized by the Central Propaganda Department. When the Cultural Revolution began in 1966, representations of Mao became more idealized. Artists were encouraged to create works that were "red, bright, and shining," which translated into the use of warm tones and smooth brushwork, a style influenced by Russian socialist realism. In works of this period, Mao is often surrounded by a luminescence that seems to radiate from his body. When the Cultural Group of the State Council was established in 1971, art production became even more centralized, and a greater number of works featuring Mao were created. Most of the works in this section of the exhibition are drawn from the period between the mid-1960s through mid-1970s, when the greatest numbers of Mao portraits were produced. The two oil paintings that received the most attention when they were originally exhibited are Tang Xiaohe's Strive Forward in Wind and Tides and Chen Yanning's Chairman Mao Inspects the Guangdong Countryside. Both of these large-scale history paintings were created by young artists (in their late twenties and early thirties) and were reproduced extensively as posters.
Intro | Mao | To Rebel | Never Forget | Up to the Mountains | Archive | Long March
Chen Yanning 陈衍宁 (born 1945)
Chairman Mao Inspects the Guangdong Countryside
1972
Oil on canvas
67 15/16 x 116 in. (172.5 x 294.5 cm)
Sigg Collection
This painting depicts Mao's visit to Guangzhou in 1958 at the height of the Great Leap Forward, an economic and social plan which aimed to transform China into a modern, industrialized society. The idealized portrayal of Mao as a "saintly icon" was a common theme of this period. The year this work was created marked a transition in which professional artists replaced amateur painters as the creators of iconic Mao images. This work was enormously influential on a succeeding generation of painters, and numerous posters and copies of it were produced.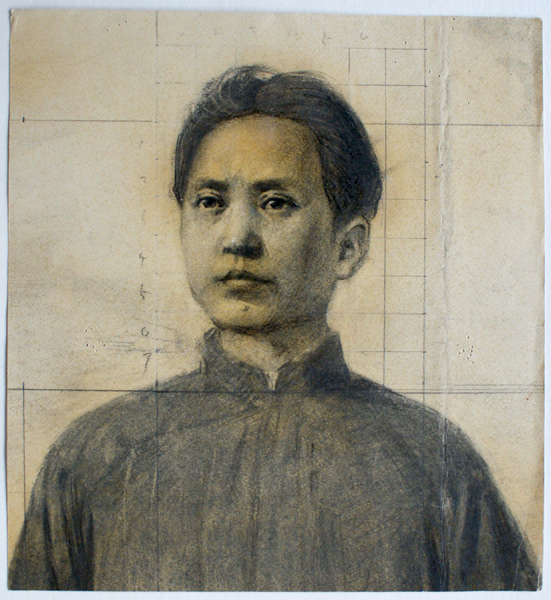 Liu Chunhua 刘春华 (born 1944)
Drawing study for Chairman Mao Goes to Anyuan
1967
Pencil and gouache on paper
11 15/16 x 11 1/16 in. (30.3 x 28 cm)
Collection of Liu Chunhua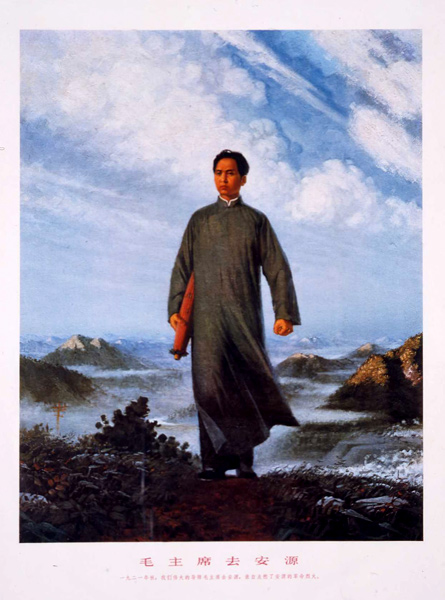 Liu Chunhua 刘春华 (born 1944)
Chairman Mao Goes to Anyuan
1969
Poster
41 1/2 x 29 7/8 in. (95.2 x 76 cm)
Collection of Yan Shanchun
The above drawing is a preparatory sketch for Liu Chunhua's well-known oil painting¸ Chairman Mao Goes to Anyuan. The poster is a reproduction of the painting. The painting was first exhibited in the Beijing Museum of the Revolution in October 1967. It depicts Mao Zedong at the Anyuan coal mine, where he was said to have incited the workers movement in 1921. On the recommendation of Jiang Qing, the painting was published in People's Daily and other newspapers and journals and was presented as a birthday gift to the Chinese Communist Party on July 1, 1968. It became a "model work" and was one of the most widely circulated images during the Cultural Revolution. According to some scholars, more than nine hundred million reproductions were printed.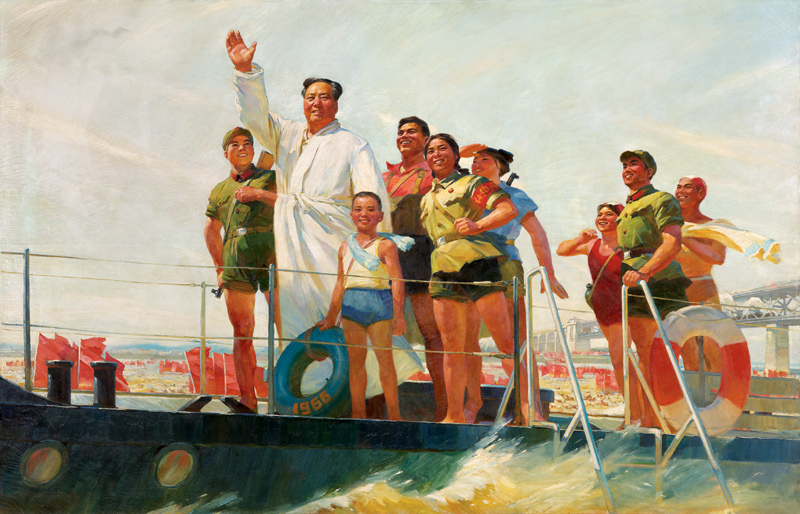 Tang Xiaohe 唐小禾 (born 1941)
Strive Forward in Wind and Tides
1971
Oil on canvas
68 15/16 x 116 in. (172.5 x 294.5 cm)
Private collection
Mao Zedong is shown here standing on a barge after his historic swim in the Yangtze River on July 16, 1966. In what many believe was an attempt to assert his political power through a demonstration of physical strength, Mao swam in the strong current of the river for more than one hour at the age of seventy-three. Posters of this painting were widely distributed in the early part of the Cultural Revolution.
Tang Xiaohe graduated from Hubei Institute of Fine Arts in 1965 and currently lives in Wuhan.
WU Yunhua 吴云华 (born 1944)
Mao Inspects Wushun Opencut Coal Mine
1972
Oil on Canvas
167 1/4 x 72 7/8 in. (425 x 185 cm)
Private collection
This oil painting was made in 1972 as a commission from the Liaoning Provincial Revolutionary Committee, which was headed by Mao's nephew Mao Yuanxin, and was selected for the National Art Exhibition in Beijing of that year. It commemorates Mao's visit to the Wushun coal mine, the largest open-pit coal mine in Asia, on February 13, 1958. Just two weeks prior to his visit, in a Supreme State Council meeting, Mao had called for rapid growth in China's productivity in industry and agriculture, launching a national campaign that was later called the Great Leap Forward.
Wu Yunhua graduated from the Lu Xun Academy of Fine Arts in 1968 and carried out advanced study at the Central Academy of Fine Arts in Beijing. He is Vice Chairman of the Liaoning Artists Association and Director of the Chinese Oil Painting Society. He currently lives in Shengyang.
Intro | Mao | Cultural Diplomacy | Never Forget | Up to the Mountains | Archive | Long March