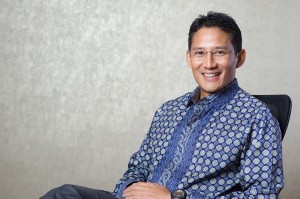 SANDIAGA UNO is this week's featured Young Leader. Sandiaga is the founding partner of Saratoga Investama Sedaya, an investment firm that focuses its investments in natural resources, infrastructure, and consumer products and services in Indonesia and Southeast Asia.
This past June, Sandi joined the Asia Society Board of Trustees and we are thrilled to have him on the Board. He currently holds key positions among others at PT. Adaro Energy Tbk, one of the largest integrated coal companies in Indonesia. He also co-founded a boutique investment firm, PT Recapital Advisors. Sandi is a member of the National Economic Committee in Indonesia. He also led the Micro, Small & Medium Enterprises and Cooperatives division of the Indonesian Chamber of Commerce and Industry from 2004 to 2010. He is also a former Chairman of the Indonesian Young Entrepreneurs Association from 2005-2008.
Sandi was appointed as the torch bearer at the 2012 London Olympics for his works as community catalyst. He is an avid marathon runner who has a strong initiative to develop the community. Sandi is one of the founders of Indonesian Social Entrepreneur Association and has been actively involved in several social foundations and movements, including Indonesia Forum Foundation, INOTEK Foundation, MRUF Foundation, Indonesia Setara, and 'Berlari untuk Berbagi'. Other than participating in world's major marathons, his hobby is basketball. He was the Team Manager for Indonesia Women National basketball team for 2005 Southeast Asia Games in Manila, Philippines. He currently serves as the Chairman of Indonesian Swimming Federation (PRSI).
Regarding the Asia 21 Initiative, Sandi says, "It is a great honor for me to be a part of Asia Society-Asia 21. I believe anyone can make a difference and create positive impacts regardless of their profession and their passion. Asia 21 brings together Asia's brightest leaders from various professions and backgrounds with remarkable achievements. In this global economy where development solutions can come from anywhere, knowledge sharing potentially has a transformational impact. Asia 21 is the perfect platform to exchange ideas and share your best practices. Being in Asia 21 inspires and encourages me to be the best person I can possibly be. Most important of all, Asia 21 has opened the door of opportunities for a fruitful collaboration and great friendship."
Sandi graduated Summa Cum Laude with a Bachelor of Business Administration from the Wichita State University in 1990 and obtained a Masters of Business Administration from George Washington University in 1992. He was awarded the Indonesian Entrepreneur of the Year by Enterprise Asia in 2008.
He is an Asia 21 Young Leader, Fellows class of 2008, and an Asia Society Trustee.