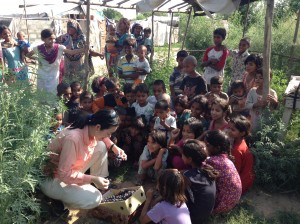 Asia 21 Young Leader Vivian Claire Liew is the Founding Director of Philanthropy Works, Asia's first philanthropy advisory and implementation service that catalyzes transformative high-impact philanthropy and sustainable development with client-centric, results-driven discipline via rigorous cross-sectoral, value chain analysis.  She is an internationally-recognized thought leader and expert practitioner in Asian philanthropy.
Vivian is an alumni of the University of Pennsylvania's Huntsman Program in International Studies and Business. She was the first Junior Associate of the World Bank. Before establishing Philanthropy Works in 2008, she worked with the 1999 Nobel Prize recipient, Medecins Sans Frontiere (AKA Doctors Without Borders), Goldman Sachs, and UBS. 
Who are the people you are trying to help in Pakistan, and why do they need help?
They are 2,000 impoverished and largely illiterate Pakistani Christian minorities in Islamabad, who were defrauded of their meager finances in a land scam. Some of them had already been forced out of their villages in the provinces and dispossessed of their farms and houses with spurious and unsubstantiated accusations of the blasphemy law, and had suffered greatly and unjustly. They became so poor that they could not even afford to rent space in the slums to sleep. The best way to help them is through job training, to prepare them to take on semi-skilled jobs.
What are you doing to aid these people? What are your goals? And how do you measure success?
Our objective was two-fold: keep them alive in the short run while we develop a sustainable development strategy to help them stand on their own feet in the next 1-2 years,  and to implement the latter successfully in the medium run so that they can sustain their families with food, and also hopefully, their children's/siblings' education. We accomplished the first via targeted food distributions. Last July, we also launched the job training phase, thanks to the Dutch Embassy funding for 72% of the project.
We measure success (in Project Hausla) by:  the lives we've helped sustain; the number of people we're training; the number of new, better-paying jobs held by the trainees; and average increment in monthly income.
What are the biggest challenges to bringing aid to Pakistan? 
It's challenging getting funding, even with solid due diligence, expertise and credibility. There is just really limited funding for the impoverished in the capital as the assumption is that urban areas have job creation. The fact that they are minorities, in a hostile climate, can also make donors fear getting involved.
What is Pakistan doing to address this problem? 
The funding challenge is a confluence of the following drivers:
The trust gap that Pakistan needs to bridge with its donors, with a solid track record in projects already funded. That hinges on the quality of strategic and implementation expertise, as well as standards of transparency and governance. All these result in lower pledge amounts, as well as disbursements that lag the pledges.

The reduction in development aid globally as traditional donors face tough macroeconomic climates at home and cut aid funding.
The remarkable lack of attention given to urban poverty; the macroeconomic statistics show quite clearly that the job creation climate in Pakistan is particularly challenged.
Significant needs in many sectors and in many parts of the country, which could deter even the best of intentions and the most stout-hearted.
The cancerous inequality which results in dramatically different lives for the elite and the rest, such that they barely seem to be one nation, one people. The Pakistani diaspora also have a key role to play in determining the future of their homeland.
In general, do you think foreign aid to Pakistan—particularly from the U.S. government—goes to the people who need it most? Why or why not? What could be done better?
It may help to recognize that foreign aid may come with non-humanitarian objectives, such as furthering bilateral trade or political motives, and thus come with parameters that may limit its scope and reach. For aid that is given out purely on humanitarian grounds, we should all applaud them. But even then, we could do more. I'd suggest a proactive stance based on a rigorous needs assessment, rather than a reactive one based on proposals received (squeaky wheel gets oiled).
To learn more about PhilanthropyWorks and how you can help, follow their Facebook page here.