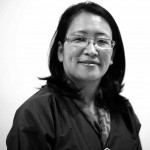 Kesang Chuki Dorjee is a filmmaker with a focus. After establishing Children & Women's unit at Bhutan's BBS Television station, she set off on her own to address the importance of women's participation in fostering democracy in Bhutan. Her projects have included films such as "Housewives to Leaders" and "Yes, Madam Prime Minister," which have won her her international awards including the UNDP Human Development Media Fellowship Award (2010) and the Hoso Bunka Award – Japan Prize (2007). Chuki Dorjee shared her experiences and insights with other young leaders in Asia last month at the 2013 Asia 21 Summit in Zhenjiang, China. Below, she tells us about some of the challenges she has faced and about her next project documenting women in Bhutan's political scene.
How did you first get into independent filmmaking? Is there an active filmmaking community in Bhutan?
Bhutan was the last country to introduce television in the world in 1999. I joined the Bhutan Broadcasting Station in its' first year and learned everything on the job – beginning with reporting and anchoring the news for television to radio hosting and then specializing in television production. With a passion for women's and children's issues I initiated the establishment of the Women and Children Unit.
After having worked at the BBS for seven years, I gave birth to my second child and juggling work and family was becoming increasingly difficult. I took the leap of faith and left the BBS but continued to work independently. A scary prospective, given the nascent audiovisual industry with limited scope of work centering around the production of promotional content.
To date all my independent work to a large extent continues to revolve around women and children. The satisfaction that I get from the work I am doing lies in the belief that I am in my own small way contributing to the lives of the women and children of Bhutan.
Soon after the launch of television, independent local film productions began to sprout. Today, the film industry has evolved into a vibrant industry with some directors experimenting with a more universal theme to showcase at international festivals.
Your work focuses on greater women's participation in leadership roles. Why have you been drawn to this particular issue, and is it solely related to Bhutan, or Asia and the world generally?
Unlike the traditional evolution of democracy around the world, democracy was gifted to the people of Bhutan from the golden throne in 2008. I took the opportunity to document this historic and unique transition. It was during this period that I was exposed to the general perception of women as caregivers and housewives and therefore not capable of leadership roles. Just as the involvement of both parents shape the family, a male dominated government devoid of female perspectives would be unbalanced and unfair, especially given the fact that 50% of the population are women. This was the beginning of my three-year project to educate, empower and encourage capable women to come forward.
This is an issue that everyone can relate to. Many countries in the world are yet to achieve gender parity in leadership positions.
Bhutan has made important strides in the last three years, political will has never been stronger to take the necessary measures to increase women's representation in Parliament and Local Government. With the appointment of our first woman Minister, I'm optimistic that we will continue to see more women participate in the coming elections.
Are there restrictions to making films in Bhutan—beyond the usual financial and logistical issues? Can you describe a time when you found a work-around to one of these restrictions?

In a country like Bhutan that is still in the category of the underdeveloped, outsiders would generally be skeptical when we say we have a lot of freedom but this is a fact. The biggest challenge I have faced has been during my initial years as an independent film maker. Taking up serious issues, and that to by a woman was the biggest hurdle that I had to over-come. I was not taken seriously and it was only through hard work and perseverance that people gradually began to take my work seriously.
What is your most current project and when do you think we'll be able to see it?

My project on empowering women and girls began with "From Housewives to Leaders" in 2011, through "Yes Madam Prime Minister" in 2012 and finally "Bhutan Women Forward" in 2013 which follows the personal journey of women that participated in the recent National Council and National Assembly elections. The films are available on our website www.women.bt and the educational resource book "Raise Your Hand – Bhutan's First Elected Women Leaders" is being donated to all High Schools and Tertiary Educational Institutes to be used by teachers and students alike to spark off discussions and inspire our future leaders.
Two of my latest documentaries will also be screened in Denmark in the Danish Bhutan Festival in early March 2014.
What does being named an Asia 21 leader mean for you?
It is a great honor and I feel privileged to be part of this prestigious group of young leaders from Asia. It is a wonderful opportunity to network, brainstorm and work across borders to solve common challenges we face today.