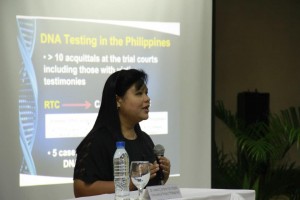 Writing for Philstar.com about forensic DNA technology, Dr. Maria Corazon A. De Ungria (A21 Young Leader, Seoul 2006) calls DNA testing a "powerful tool for human identification," which, with recent advances in technology, has begun "reforming the manner by which cases are resolved in courts."
New DNA markers have been discovered with higher variability across populations, making them more likely to accurately correspond to an individual.  When DNA testing was first introduced in the mid-1980s, there were only 9 possible markers available to aid forensic researchers; there are now upwards of forty.  Automation of the identification process has also reduced errors and increased efficiency, and strides in dyeing techniques provide an increase in useable data per given amount of genetic material.  Dr. Corazon and her colleagues at UP Diliman laboratories are working with the Program on Forensics and Ethnicity of the Philippine Genome Center to leverage these advances to benefit the Philippine criminal justice system.   Furthermore, these new advances can shed light on cold or closed cases, aiding both victims and the wrongly convicted alike.  DNA testing is also now available for use at the scene of the crime, "increasing the chances of apprehending the real perpetrator in almost real time."  This is particularly relevant in The Philippines, where there is no standard procedure for longer-term storage and maintenance of DNA evidence.  Dr. Corazon ends her article calling for investment in education, policy and technology, as well as for improving relevant training for legal professionals.  In doing so, The Philippines will be able to take full advantage of these new, more effective DNA identification tools.
Read the article here.