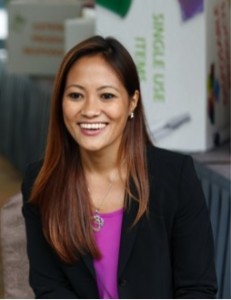 Hong Kong-based Filipino Asia 21 Young Leader, Patricia Gallardo of Shangri-La Hotels and Resorts was awarded the 2014 International Hotel Investment Forum's Young Leader Award last March 5 in Berlin during the 17th International Hotel Investment Forum.
This is the 6th year the award has been given out by the IHIF, in conjunction with the International Society of Hospitality Consultants (ISHC). It recognizes the outstanding contribution to the industry by a young hospitality leader.
Andrea Belfanti, Executive Director ISHC commented: "The ISHC realizes the importance of recognizing the future leaders of the hospitality industry and Patricia is certainly one of those outstanding examples. She is truly passionate about her role in the hospitality industry and leads her team with an incredible determination. We hope the YLA continues to receive nominees of such high caliber in the coming years."
"This award affirms not only the value of responsible business but serves as a call for companies to take risks, innovate and invest in young leaders to drive change" says Gallardo. Patricia is currently the Global Director of Sustainability for Shangri-La Hotels and Resorts. She is an alumni of the the Ateneo de Manila University and the University of Birmingham. She has been recognized as an "Emerging Leader" and was selected as one of the "100 Most Influential Filipina Women in the World of 2013″ by the Filipina Women's Network.
Related Links:
Patricia Gallardo presented with the 2014 Young Leader Award at IHIF
Final Day Summary – IHIF 2014
IHIF Young Leader Award
100 Most Influential Filipina Women in the World of 2013