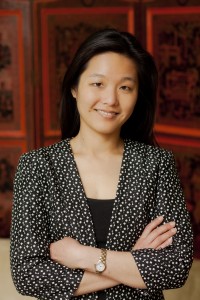 This week's honor goes to WENCHI YU, who is a co-founder of a social capital investment firm connecting the Asia Pacific region to the world through private investment and philanthropic activities. As an appointee in the first Obama administration, she worked on women's issues and economic issues in Asia.   Wenchi spearheaded the launch of key initiatives such as the APEC Women and the Economy, the Secretary's International Council on Women's Business Leadership, the US-China Women-LEAD Initiative, and the mWomen Initiative that uses mobile technology for effective development and women's empowerment. She also led the White House Equal Futures Partnership initiative for the Department of State and managed the 57th UN Commission on the Status of Women meetings for the United States.
About her Asia 21 connection, she says "Asia 21 has become a family to me. I find comfort in seeking advice, knowledge, connections, and simply friendship from the incredible network of promising young leaders throughout the region. I have learned to appreciate diverse perspectives and leadership styles through getting to know the other Asia 21 young leaders. The annual meeting is an opportunity I look forward to being recharged with fresh ideas. This is the place I come to learn, share, and grow."
Prior to 2009, she worked in the U.S. Congress on China's rule of law development and at Vital Voices Global Partnership, a leading international NGO founded by Hillary Rodham Clinton. She has testified before the U.S. Congress. Early on, she was a foreign policy assistant in the Parliament of Taiwan.
Wenchi received her M.A. in International Relations from the University of Chicago and her B.A. in Political Science from the National Taiwan University. Her writing has appeared in the United Nations Chronicle, Asian Wall Street Journal, and Taipei Times.
Wenchi is a Caixin columnist, an Asia 21 Fellow, and just recently came on board as an Asia Society Associate Fellow for Women Leaders of New Asia (WLNA) initiative. We are proud to have Wenchi as part of Asia Society. Welcome to the family!