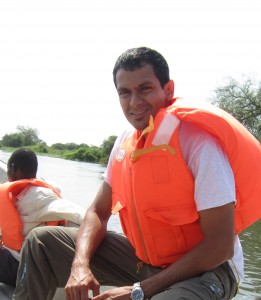 This week's honor goes to SATCHIT BALSARI who is an emergency physician at New York-Presbyterian Hospital, in one of New York City's busiest emergency departments. Satchit is also an Assistant Professor at Weill Cornell Medical College where he serves on the Steering Committee of the Global Health Curriculum, directs the Global Emergency Medicine Program, and teaches several courses in global health.
Satchit's interests are focused on humanitarian crises, mass gatherings, disaster preparedness and the development of clinical emergency medicine in middle-income countries.  His team helped pioneer city-wide disaster drills in India and Sri Lanka that have subsequently been adopted by the National Disaster Management Authority of India for nation-wide implementation. He has served in the aftermath of many disasters including the Bhuj earthquake, Hurricane Katrina, and the Haitian earthquake; and has been engaged in education, research and capacity building initiatives in Sri Lanka, Iraq, South Sudan, the Middle East and many cities in India.
Earlier this year, as part of Harvard's multi-disciplinary team at the Kumbh Mela in India, attended by 100 million people, Satchit's team chronicled the public health impact of the world's largest mass gathering. An epidemiological disease surveillance tool that he conceptualized and help develop, EMCounter, was deployed at the Mela to track 60,000 patient visits in 3 weeks, to look for early warning signs of impending epidemics.
Along with friends from Mumbai and New York, Satchit has also developed several on-line, crowd-sourcing platforms like mumbaiVOICES, newyorkVOICES and bostonVOICES to capture the response of ordinary citizens in the aftermath of natural disasters and terror strikes and facilitate a public analysis of state response to these calamities.
Satchit also lectures extensively in medicine and public health. In 2011, he pioneered the Global Health Essentials Course, that is now an annual two-week educational event taught by 30 leading world experts in global health (including Asia 21 Fellows) and attended by an international audience of healthcare professionals from around the world.
On his Asia 21 connection, Satchit says that "the Asia 21 Fellowship has been profoundly inspiring right from the get-go. It has provided me an opportunity to meet trailblazers from around the world, from disciplines and regions I would otherwise have little exposure to, and learn so much about their journeys – professional, personal, social. Year after year, watching their stories develop, seeing nascent ideas transform into concrete actions and often develop into social and political milestones of international significance has been a most exhilarating experience. And being able to now call many of them my friends, is priceless."
Satchit received his medical degree at Grant Medical College in Mumbai, and completed his training in public health, humanitarian studies and emergency medicine at Harvard, Columbia and Cornell Universities. He is founding President of the Rotaract Club of the Caduceus, a local Mumbai-based non-governmental organization of medical students that has been serving the health needs of local communities since 1997. He is a visiting scientist at the Harvard School of Public Health where he serves as Fellow of the François-Xavier Bagnoud Center for Health and Human Rights, and Associate Faculty at the Harvard Humanitarian Initiative.
Satchit is an Asia 21 Young Leader, Fellows Class of 2010, and an India-Pakistan Young Leaders Initiative Fellow of 2013.