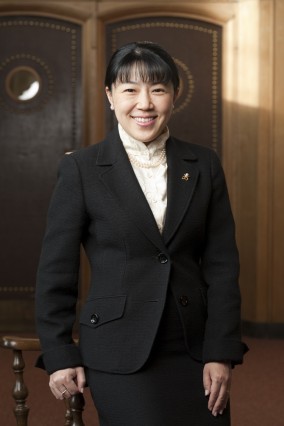 This week's honor goes to Claire Chino, who has been appointed as the first female executive director on the board of a Japanese trading company. Claire was appointed Executive Officer and General Manager, Legal Division, of Itochu Corporation effective this April. She has the distinction of being the "youngest and the first female executive officer" of any major Japanese trading company. Claire views this not so much as her personal achievement but rather as a sign that global companies are, by necessity, placing more importance on diversity. She adds, "Japan unfortunately ranks very low in the gender parity area. In fact, according to the report compiled by the Asia Society (Rising to the Top? A Report on Women's Leadership in Asia) on gender empowerment, as of 2011, Japan ranked 98th out of 135 countries, mostly driven by the fact that there are so few women in leadership positions within corporations. I would be more than happy if my appointment can bring hope for other working women in Japan."
"When you think that your expected task is too daunting (as in my case!), your friends become ever-more important. They are the ones that can provide you with sound advice and otherwise 'put you straight.' I am especially grateful to have such a wonderful platform called the Asia 21, a diverse group of extremely talented friends that I feel I can call on any time. In addition, it is great to know that the Asia Society is fully committed to women's leadership issues as demonstrated by the "Women Leaders of New Asia" summits. Thank you Asia Society, and in particular Asia 21, and please continue to be my guiding light."
To read more about her appointment, click here.
Claire Chino teaches law on the side at Keio Law School and Hitotsubashi Graduate School of International Corporate Strategy. Before joining Itochu Corporation as Corporate Counsel in 2000, she was a partner of an international firm. At Itochu, she specializes in cross-border transactions. She serves on the Advisory Board of Cornell Law School, where she taught as a "Distinguished Practitioner in Residence" in 2011. Claire is a recipient of recognitions from the World Economic Forum (Young Global Leader), Yale University (Yale World Fellow) and the US-Japan Foundation. Classically trained, she is finalist in the Tokyo Voice Competition (Kokusai Geijyutsu Renmei) and strives to be a singing lawyer. She graduated from Smith College (BA, cum laude) and Cornell Law School (JD).
Claire Chino is an Asia 21 Young Leader, Fellows Class of 2006.