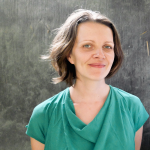 Asia Society is very pleased to announce that Asia 21 Young Leader Ewa Wojkowska, Co-Founder & COO of Kopernik, has been chosen as an Ashoka Fellow, the world's most prestigious social entrepreneurship fellowship.
She joins a leading group of social entrepreneurs who are recognized for their innovative solutions to social problems and potential to transform society.
Ewa co-founded Kopernik with Toshi Nakamura to connect simple, life-changing technology with the people who need it the most. Kopernik's hybrid approach deploys philanthropic funds to cover the start-up costs of introducing affordable technology requested by communities in remote parts of the developing world. As technologies like solar lights, water filters and clean cookstoves are sold, the revenue is reinvested in connecting more technology with last mile communities.
Since launching in 2010, Kopernik has reached more than 150,000 people with technologies that are saving families time and money, improving health and safety, easing pressure on the environment, and opening up new economic opportunities. In Indonesia alone, Kopernik has reached 70,000 people from Papua to Aceh and many provinces in-between.
Ewa was selected as an Ashoka Fellow Indonesia, where Kopernik's head office is located. She is one of the first foreigners to be recognized by Ashoka Indonesia for her change-making work in Indonesia.
"It's an honor to be named alongside such an influential and inspiring group of leaders," says Ewa. "I see it as a stamp of approval, that the four years of hard work we have put into Kopernik so far is not only changing lives, but also changing the way people think about combating poverty."
Ewa has previously been recognized as Rutgers University Social Entrepreneur of the Year in 2012, and as one of Advance's 50 emerging women leaders in 2011. Prior to Kopernik, Ewa worked for the United Nations and the World Bank in Asia and Africa, focusing on the empowerment of vulnerable and disadvantaged groups.
Ewa is an Asia 21 Young Leader, Class of 2013.
Related links
Asia Society Gathers Young Leaders in Zhenjiang for 8th Annual Asia 21 Summit
Asia Society Announces 2013 Asia 21 Young Leader Awardees
Bios, Asia 21 Young Leaders, Class of 2013-14
Ashoka Fellow Profile-Ewa Wojkowska