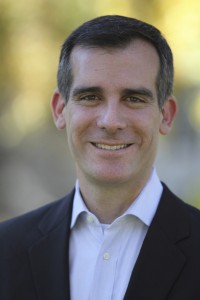 On May 21, 2013, Asia 21 Young Leader Eric Garcetti won a hard-fought contest to succeed outgoing mayor Antonio Villaraigosa and will take office on July 1 as the 42nd Mayor of Los Angeles. A fourth-generation Angeleno, he is among the youngest mayors in the city's history.
A graduate of Columbia University and a Rhodes Scholar, he has had distinguished career in academia, teaching at the University of Southern California and Occidental College. A U.S. Navy Lieutenant and respected public intellectual, Garcetti has written about development and post-war regeneration in developing countries, served on the California Board of Human Rights Watch, and worked on a diverse range of issues, including crime reduction and the environment. Garcetti's subsequent political career began with his election to the Los Angeles City Council in 2001; he later became president of the Council in 2006. He has also garnered attention for his commitment to remaining an accessible figure to his constituents, going so far as to have open office hours for face-to-face meeting.
Join us in congratulating your fellow Asia 21 Young Leader Eric Garcetti and wishing him much success!