The two and half-day Afghan Young Leaders Forum, which took place in Kabul and ended on Oct. 26th, served as a critical platform for thirteen young leaders to convene, connect, and put their collective brain trust to work developing strategies to catalyze change and impact the Afghan narrative in the coming days, months, and years.The new class of Afghanistan 21 Young Leaders shared ideas, listened to counter arguments, and challenged each other to develop practical solutions to seemingly insurmountable challenges facing their country. In a society where youth is seldom equated with wisdom, and this in a country where upwards of 65% of the population is under the age of 25, this year's class debunked this conventional wisdom.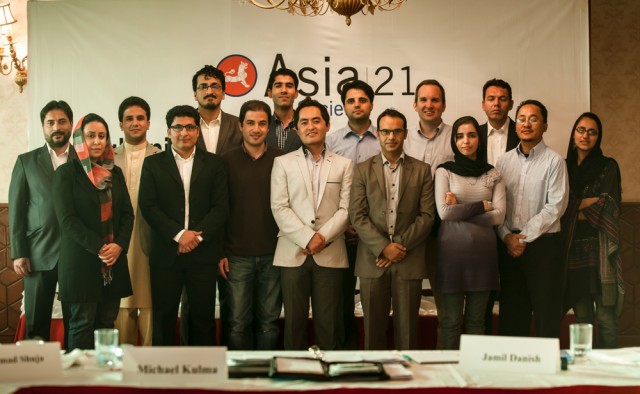 This group of next generation leaders acknowledges a sense of insecurity and a real threat of backsliding, especially if the upcoming presidential election in 2014 is deemed to be fraught with irregularities. Pervasive corruption, lack of gainful employment opportunities (some studies report the unemployment rate to as high as 40%), rural/urban divide, unresponsive leaders, and a broken political system, are among other challenges facing the people of Afghanistan Yet, in spite of this ominous backdrop, the Afghan 21 Young Leaders are a beacon of hope; and they are hopeful. They are educated, skilled, and have an overwhelming desire to affect change and make a difference; to change the narrative on the future of Afghanistan.
The Forum brought together these young leaders in one place, at one time, for one common purpose. They spoke of the importance of such in-person meetings. This is a clear validation of the power of convening, the value of face-to-face interactions, and heart-to-heart connections. During the course of their fellowship year, they will be working together to address the needs to better engage the youth population in the decision making processes of the country. Now over to the 2013 Class of Afghanistan Young Leaders and their predecessors from previous classes—time to put this social capital to good use and demonstrate leadership in action.
Click here to read the bios of the 2013 Afghanistan 21 Young Leaders.