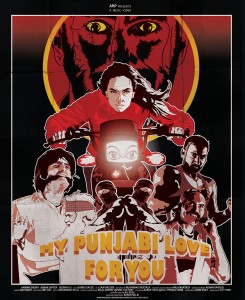 Adnan Malik (A21 Fellow,  2012) recently premiered his latest music video last month, My Punjabi Love for You. The video is the first of its kind, female-revenge-action video as it is an evocative and propulsive experimental music and film hybrid, which tells a story of a young rural wife who attempts to overcome the challenges faced by independent women in a male dominated society.
Inspired by the raw and grungy sound of the track, "My Punjabi Love for You" by Bumbu Sauce, the video propels you into the world of its female protagonist and her troubled relationship with men and society.
Featuring inventive direction from Adnan Malik, and gorgeous cinematography by ace DOP Zain Haleem and Produced by AMP, the video piece draws inspiration from classic Pakistani cinema and cult martial arts films, and hopes to contribute to the ongoing dialogue about gender equality in Pakistani society.
MY PUNJABI LOVE FOR YOU//BUMBU SAUCE from Adnan Malik Productions on Vimeo.
Adnan is an award-winning film-maker and TV host based in Karachi, Pakistan and is the director of Adnan Malik Productions—a multi-platform integrated production house that develops, coordinates, and produces television commercials, digital media, film based projects, advertising concepts, and event-based entertainment. He recently hosted a travelogue commemorating 60 years of friendship between Pakistan and China and is also Video Producer for Coke Studio, a highly acclaimed musical platform that bridges barriers and celebrates diversity.
To watch the video, click here.
To learn more about Adnan Malik Productions, click here.