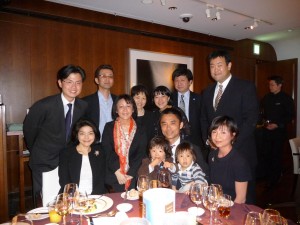 The Asia 21 Young Leaders Initiative brings together a select group of Asia's most dynamic young leaders who share a commitment to making their societies, the Asia-Pacific community, and the world a better place.  Moreover, the program offers them a unique opportunity to explore and realize that commitment collectively. Asia 21 identifies and develops an active network young leaders from all sectors, and aims to help prepare tomorrow's leaders for the challenges and responsibilities of global citizenship generating creative, shared approaches to leadership and problem solving.
The Philippines 21 Young Leaders Initiative was founded by Asia 21 Class of 2006 Fellow Harvey Keh, together with the Asia Society Philippine Foundation, Inc.  It has been extremely successful in starting a robust local network modelled after the larger Asia 21 Young Leaders Initiative.  They recently hosted a meeting with the Korea 21 chapter, which visited the Philippines to get more firsthand information about setting up their operations and to explore collaborative projects together.
Several other delegations have also started to officially organize themselves and undertake initial projects.  Australia 21 presented their recommendations on "Australia's Future Security and Prosperity in a Rapidly Changing Region and World" at the Australia 2020 Summit and openly declared a commitment to building a shared future that is deeply and vibrantly engaged with its Asia Pacific neighbors.  New York 21 has adopted Sakhi, a community-based organization in the New York metropolitan area committed to ending violence against women of South Asian origin.
Hong Kong 21 organized "Table for Change," a cross-sectoral leadership platform for young leaders to interact and discuss local and global issues.  Singapore 21 has proposed a line-up of projects that include speaking engagements, youth summits, youth leadership programs, and an Adopt-a-School program.  Meanwhile, Japan 21 members meet on a regular basis and have been instrumental at making last year's Summit a success.
We invite and welcome all Delegates and Fellows to develop a plan for Asia 21 chapters in your respective countries. Local Asia 21 chapters ("satellite Asia 21″) can be set up in accordance with the guidelines set forth below:
1.    Develop Selection Process
a.    Receive Asia Society guidelines for criteria for satellite Asia 21 Fellows
b.    Develop nomination procedure in cooperation with Asia Society New York headquarters (ASNY)
c.    Identify and nominate potential young leaders
d.    Develop selection/evaluation process and committee approval process
e.    Select young leaders to be appointed in coordination with ASNY
2.    Identify and Solicit Local Partners
a.    Develop sponsor documents in cooperation with Asia Society New York headquarters
b.    Identify potential corporate sponsors
c.    Approach and solicit corporate sponsors for funding for local programming and costs of travel to Asia 21 Young Leaders Summit in cooperation with ASNY
3.    Manage Local Programming
a.    Develop series of in-country dialogues and public service projects
b.    Develop local meetings and agenda
c.    Develop electronic communication media
4.    Coordinate with Asia Society on Annual Asia 21 Summit
a.    Form national delegation to attend the annual Asia 21 Young Leaders Summit
b.    Liase and coordinate with ASNY for details of the Summit