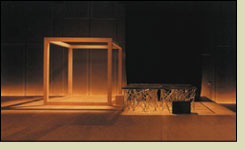 Form

A traditional tearoom consists of a small cottage constructed mainly of wood and bamboo. A small room, where no more than five guests are expected, scarcely has any permanent ornamentation. All architectural elements--a lattice window, bamboo beams, an exposed natural wood column, tatami straw mats, and so forth--set the basic ambience. There are as many manifestations of tearooms as there are followers of the way of tea who devote their energy in visualizing their ideal settings for a cup of tea.


Space

However, a tearoom does not stand by itself. It is defined by the environment and is inseparable from the myriad of meanings embodied within various elements that surround it. The most important of these elements, the roji (a narrow path leading to a tearoom) invites the guest to rid one's self of worldly concerns. It is also a transitional space where one leaves behind all the stifling conventions that obstruct one's experience of life at its fullest. In the present exhibition, the "path tunnel," a corridor formed by illuminated Japanese paper screens, abstractly recreates the space of the roji in the C.V. Starr Gallery and leads the visitor to the world of tea as reinvented in unconventional and striking terms.


Inspiration

At the Asia Society galleries, a "tearoom," the place where a tea ceremony traditionally takes place, is treated not as an architectural norm to be followed but rather as a subject in which the selected contemporary artists explore their ideas of chanoyu. New York artist Wenda Gu developed an installation in the Arthur Ross Gallery based on his unique interpretation of tea. The Starr Gallery, on the other hand, introduces four tearooms by Japanese designers and architects. While each tearoom on display in the Starr Gallery finds its own kinship with the basic aesthetic principles set forth by Sen Rikyû, the entire gallery space is designed to maintain a constant flow, from the everyday space to the realm of tea, and from one tearoom to another, in both physical and metaphysical senses.
Copyright © 2002 Asia Society