This mandala sand painting is a gift to New York City from the Tibetan Buddhist monks of Drepung Loseling Monastery to commemorate the tragic events of September 11 and to honor His Holiness the Dalai Lama, who will receive the prestigious Human Rights Award from the International League for Human Rights on September 19.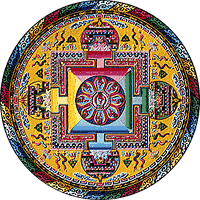 A mandala is a symbol of the universe in its ideal form, and its creation signifies the transformation of a universe of suffering into one of joy. It can also be used as an aid to meditation, helping the meditator to envision how to achieve the perfect self. The construction of the mandala begins with a ceremony in which the monks consecrate the site and call forth forces of goodness through chants, meditation, and music. Then, over the course of ten days, the monks will pour millions of grains of colored sand from traditional metal funnels (chak-purs), purifying and healing the space and its inhabitants in the process. Shortly after its completion the monks will dismantle the mandala to symbolize the impermanence of all that exists and disperse the sand in order to share its blessing.
A Soul of Asia program. Free with museum admission.
Selections of Buddhist masterworks from the Mr. and Mrs. John D. Rockefeller 3rd Collection of Asian Art are on display within the building.
Made possible with generous support from Ruth and Harold Newman.