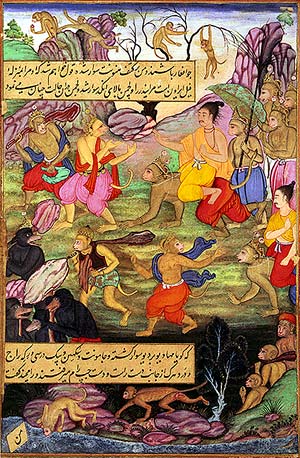 Rama and his allies arrive at the shores of the ocean
Folio from a manuscript of the Ramayana in Persian translation
Mughal; ca. 1594
Opaque watercolor and gold on paper
Cynthia Hazen Polsky Collection (1010-IP)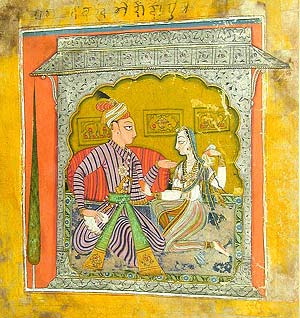 A prince and lady in a chamber
Illustration to the musical mode Harsha Ragaputra
Basohli, Punjab Hills; ca. 1700–10
Opaque watercolor with silver, gold, and beetle-wing case on paper
Cynthia Hazen Polsky Collection (2083-IP)
Courtly Manuscripts
At the Hindu courts of the Rajput rulers, a vigorous and expressive new style developed in the fifteenth and sixteenth centuries devoted to the illustration of devotional texts such as the Bhagavata Purana as well as secular, courtly subjects such as ragamala (garland of the ragas), the systematic illustration of the northern Indian musical modes (ragas and raginis) according to received poetic tradition.
The robust early Rajput style influenced the dynamic early Mughal school. The new imperial studio established by Akbar (r. 1556–1605) included many native Indian painters under the direction of imported Persian masters. The refined Iranian tradition of illustrated manuscript production in a vertical codex format was integrated with the indigenous Indian tradition and with the naturalism derived from the study of European prints.
The texts illustrated for Akbar included the chronicles of his life and the memoirs of his grandfather Babur (r. 1526–30), the founder of the dynasty. The familiar classics of Persian poetry were superbly illustrated, as were the newly commissioned Persian translations of Indian narratives or religious texts, including the Ramayana epic. The steady dispersal of Mughal-trained painters to work at provincial courts gave a new impetus to the local schools of Rajput painting in Rajasthan and the Punjab Hills.