Suzuki Harunobu: Prints in Full Color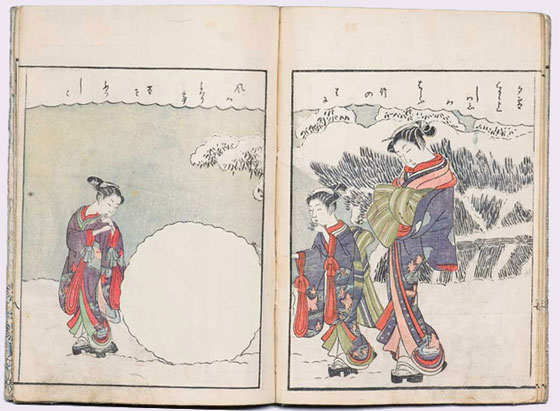 Suzuki Harunobu (1725?–1770)
Courtesan, Two
Kamuro
and a Giant Snowball,
from
Picture Book of the Brocades of Spring (Ehon haru no nishiki)
1771
Color woodblock-printed book
21.7 x 14.6 cm each page
Vol. 1 of 2
Private collection
Harunobu's five volumes of courtesan portraits of 1770 constitute the only color-printed book published in his lifetime. A different publisher issued the book shown here, in two volumes and in a smaller format, in the first month of Meiwa 8 (1771), a few months after the artist's death. As the block cutter is the same one named in the 1770 book and the illustrations are authentic in style, it is likely that Harunobu completed the preliminary drawings for the book before his death.
Photo: Courtesy of lender