David Henry Hwang



David Henry Hwang is a playwright. He was born in Los Angeles in 1957 to Chinese immigrant parents. His first play, FOB (Fresh Off the Boat) won the 1981 Obie Award for Best New Play. In 1988, his Broadway hit, M Butterfly, won the Tony Award for Best Play. His opera libretti include two works for composer Philip Glass, 1000 Thousand Airplanes on the Roof and The Voyage, as well as The Silver River, with music by Bright Sheng. His most recent play, Golden Child, received 1998 Tony nomination and a 1997 Obie Award. He is co-author of Disney's hit musical, Aida, winner of four 2000 Tony Awards. Hwang wrote the feature films M. Butterfly, Golden Gate, and the upcoming Possession (co-author). His reworking of Rodgers & Hammerstein's Flower Drum Song will premiere this season.




Selected Objects

Head of Buddha
Pakistan, Gandhara area
Kushan period, late 2nd-3rd century
Phyllite
H. 14 1/2 in. (36.8 cm); 1979.2

Head of Buddha
Cambodia
Angkor period, Bayon style, 12th-13th century
Sandstone
H. 13 in. (33.0 cm); 1979.71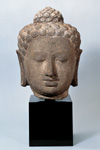 Head of Buddha
Indonesia, Central Java
9th century
Andesite
H. 13 in. (33.0 cm); 1979.85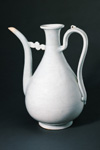 Ewer
China, Jiangxi Province
Ming period, early 15th century (probably Yongle era, 1403-1424)
Porcelain with incised design under glaze (Jingdezhen ware)
H. 13 in. (33.0 cm); 1979.155

Dish
China, Shaanxi Province
Northern Song period, late 11th-early 12th century
Stoneware with carved and combed design under glaze (Yaozhou ware)
H. 1 1/2 in. (3.8 cm), D. 7 in. (17.8 cm); 1979.148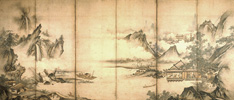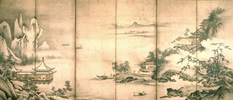 Attributed to Odawara Kana school
The Four Seasons
Japan
Muromachi period, mid- to late 16th century
Pair of six-panel folding screens; Ink and light color on paper
Each 61 x 142 1/8 in. (154.9 x 361.0 cm); 1979.216.1-2
The Myth of Authenticity

As a Chinese American born and raised in Los Angeles amidst images of Fu Manchu and Charlie Chan, I have spent a good deal of my adult life searching for authentic images of my cultural heritage. The deeper I have looked, however, the more slippery a concept authenticity itself has become. The pieces I have selected, clearly impressive from our modern vantage point, might have been considered inauthentic by cultural purists of their day. They are the product of intercultural mixing, aesthetic fusion, and mongrelization-and therefore remind me very much of myself.

Though the screens are from Japan, the artist has appropriated Chinese styles of landscape painting, which would've been considered very chic. Yet the execution of this typically Chinese subject incorporates distinctly Japanese visual elements, including flatness and an almost graphic quality. Moreover, the work was painted at a time when this style was already considered dated within China itself. They might therefore be considered neither "authentically" Chinese nor Japanese. Interestingly, however, painting techniques such as these were eventually incorporated into the mainstream of Japanese art. The screens therefore remind me of contemporary cross-cultural work, in which traditional mythologies and icons are sometimes reinterpreted through modern sensibilities, resulting in pieces which might be considered "incorrect" in strict anthropological or historical terms, but which may nonetheless show artistic merit.

The three heads of Buddha evoke another issue which interests me: how images are appropriated by different peoples in order to reflect themselves and differing standards of beauty. Note the almost Greek or Roman features of the Pakistani Buddha, as opposed to the more Asian characteristics of those from Cambodia and Indonesia. Which is the more "authentic" depiction of the great thinker? Clearly, different peoples and generations have always reinterpreted images and stories to suit their own needs.

The platter and ewer from China remind us that commercialism and globalization have shaped art and culture long before our own time. The ewer derives its form from Middle Eastern metalwork. Many such pieces were created between the fourteenth and sixteenth centuries for export; eventually, items once crafted for foreign tastes became fashionable within Yuan dynasty China itself. Similarly, the large size of the platter suggests it was made to sell abroad; significantly, the design may even represent the linking together of coins. I find these pieces provocative in light of modern debates which suggest a work is less "authentic" because it caters to a broad audience-for instance, the charge by some that the movie Crouching Tiger, Hidden Dragon is inauthentic by virtue of its appeal to Western audiences. Should these pieces be considered suspect for the same reason, or might we simply enjoy their aesthetic beauty?

Together, these works remind me that notions of cultural or artistic purity are often ahistorical and even delusional. Culture is a living thing, constantly changing, always incorporating new elements. In the final analysis, perhaps these pieces help me feel that I too am "authentic," after all!